OU graduate student safe after fleeing from Ukraine
When Oakland University graduate student Khrystyna Shchubelka traveled to Ukraine on Jan. 5 with her husband and child, she never could have imagined that she would be forced to flee the country so soon thereafter. 
"I had to do a part of my dissertation research there and I had a baby," Shchubelka says. "My parents didn't see the baby yet, so we combined the family reason and the work reason." 
As the weeks went by, Shchubelka could not ignore the escalating situation and the information that was being provided by the United States. 
"Information was piling," Shchubelka says. "The last week before Feb. 24 it got really worrisome because we started feeling like, ok this is gonna be bad." 
Shchubelka and her husband Arun Mohan booked a flight out of Ukraine on Feb. 24, but the flight was canceled due to the invasion of the Russian army that same day.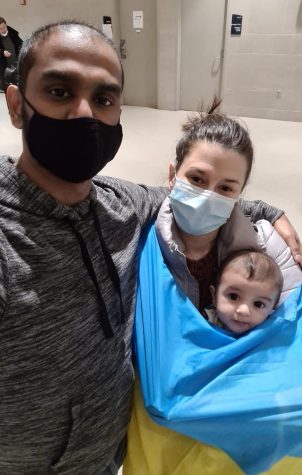 "When they bombed on 24th I [felt] fear first," Shchubelka says. "Even though nothing threatened me personally, I was looking at my baby and imagining, if it gets worse tomorrow [and a] rocket flies to my city, what will I do? I cannot fight with this baby." 
Shchubelka and Mohan decided their best option was to flee via the Slovakian border, but there was concern that the country would not admit Mohan because he did not obtain a proper visa. 
The couple decided that if Slovakian officials would not let Mohan into the country, Shchubelka would continue on with their baby and Mohan would return with Shchubelka's father who was waiting on the Ukrainian side of the border. 
As they were preparing to leave Ukraine, Shchubelka was hit with a myriad of emotions. 
"I was so scared for the baby and I was so sad at the same time. I knew for sure I [could not] persuade my parents to go with me," Shchubelka says. "I took two pictures with my mom and I thought, 'if it's the last picture I have with my mom or whatever happens at least I will have [them].'"
After arriving at the border, Shchubelka and Mohan faced an eight hour line. They decided to cross on foot and fortunately, Slovakian officials let them both into the country. 
"God really guided us to do it the very first day because if we waited one more day [a] huge wave of refugees would block the border," Shchubelka says. "We got out at the right moment."
From Slovakia, the couple and their 6-month-old boarded a bus to Prague. The entire time they kept in contact with OU biology professor and fellow Ukrainian national Taras Oleksyk. 
"[Shchubelka] bought an [airline] ticket and the war started four hours after that," Oleksyk says. "She already spent money for it so she ended up without money."
That's when Oleksyk and other OU students and staff stepped in. They were able to raise the money for Shchubelka's flight to Detroit in a matter of hours. 
"I think it took about six hours for students and faculty [in the] biology department to put this together," Oleksyk says. "We [had] to take care of her and her husband." 
From Prague, Shchubelka, Mohan and their baby flew to Paris and then to Detroit. Shchubelka feels extremely grateful that the OU community was able to support her during this challenging time. Now, Shchubelka and Oleksyk plan to use their voices for Ukrainian advocacy. 
"We try to make sure that people understand we're not afraid. That's the only way to defeat this dark force that's coming," Oleksyk says. "Don't be afraid to stand up to it. Don't say that if we just give [Vladimir Putin] something then maybe he will stop. He will never stop. The only way to stop a bully is to stand up to him."
"Ukrainians are very sure that we will win," Shchubelka says. "There is no way back."