OULDI to host "Linguistic Justice" discussion with Dr. April Baker-Bell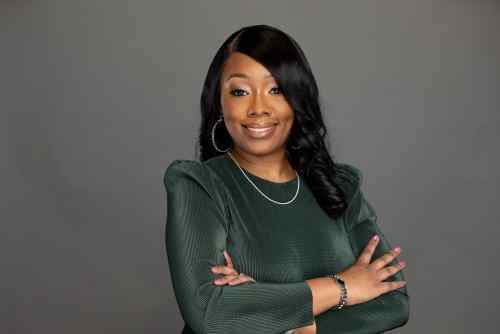 Award-winning transdisciplinary researcher, teacher and activist, April Baker-Bell, Ph.D., is coming virtually to OU on March 10 for a presentation titled "Linguistic Justice: Black Language, Literacy, Identity and Pedagogy."
The presentation is being hosted by the Oakland University Linguistic Diversity Initiative (OULDI) and the School of Education and Human Services (SEHS) Initiative for Eradicating Racism. The Office of Student Affairs and Diversity, SEHS and College of Arts and Sciences are also serving as co-sponsors.
Baker-Bell, associate professor of Language, Literacy and English Education at Michigan State University, is known as a leader in national conversations surrounding Black Language education. Her book, published in 2020, has been widely praised for connecting theory, research and practice to disassemble "Anti-Black Linguistic Racism" and white linguistic supremacy.
She was the 2020 recipient of the National Council of Teachers of English's George Orwell Award for Distinguished Contribution for her book and has had research published in The Journal of Literacy Research, The Journal of International Review of Qualitative Research and multiple other publications.
Kuniko Nielsen, associate professor and chair of OU's Linguistics department, says Baker-Bell's book and presentation question the current education system in regard to how language is taught in school systems and what it does to speakers of what Baker-Bell refers to as Black Language — known in linguistics as African American Vernacular English.
She states this discussion is about spreading the message of Baker-Bell's work to as broad an audience as possible. Nielsen also notes how Baker-Bell's research and book coincide with the essence of OULDI: to foster and support linguistic diversity at OU.
OULDI aims to support its mission through raising awareness of linguistic diversity, expression affirmation of linguistic diversity and practicing advocacy for the legitimacy of linguistic diversity and importance of linguistic justice.
Nielsen hopes attendees of the presentation will gain an understanding of the ability to use language that we feel most comfortable using to express ourselves is a basic human right.
"Everyone should be able to speak their mother tongue without oppression and that's at the core of what we are trying to do through OULDI, celebrating linguistic diversity and advancing linguistic justice. That's why we want to celebrate and understand linguistic diversity on the OU campus and in the community because there are a lot of people who speak something else," Nielsen said.
She also hopes attendees are able to recognize and be aware of what society is doing to speakers of Black language and provide the opportunity to think about what needs to be done in order to correct the injustice in language standards and expectations.
The event will take place over Zoom from 5:00 p.m. to 7:00 p.m. and will consist of Baker-Bell's presentation and a question and answer session moderated by Carly Overfelt, Ph.D., special lecturer in the linguistics department.
Registration is required to attend and the registration form can be accessed on the OU events calendar. Nielsen also encourages everyone to read Baker-Bell's book, which is available electronically through Kresge Library at OU.
The Zoom presentation will be recorded, however, it will only be available through the OU Diversity Challenge espace. Students can register for this challenge on the Diversity, Equity and Inclusion webpage.