OUWB students highlighted Black-owned businesses for Black History Month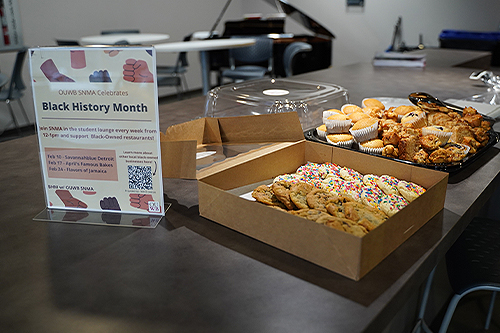 Rachel Yim, Science & Technology Reporter
March 9, 2022
The month of February marks Black History Month. In an effort to celebrate Black History Month, the OUWB chapter of the Student National Medical Association (SNMA) highlighted some of the local Black-owned food businesses.
Camila Joy Ramos (M2), the vice president of the SNMA chapter, was first inspired by SNMA chapters from other schools doing a similar event series and eventually brought this idea to the group as a way for SNMA to celebrate Black History Month at OUWB.
"One purpose of Black History Month is to highlight successes within the African-American history, and our food event series was our way to fulfill this purpose during the special month," Ramos said. "We also wanted to raise awareness within our OUWB community of them and others like them in order to help these businesses continue to flourish with returning customers."
According to Ramos, they chose to spotlight food enterprises since sharing a meal with one another is how different cultures bonded and demonstrated their love and care for one another.
Chosen from a document by WXYZ Detroit that lists hundreds of Black-owned businesses, the following businesses were highlighted for this event:
Feb. 10: Savannahblue Detroit (Serves contemporary northern soul food in Detroit)
Feb. 17: April's Famous Bakes (Creates baked goods from scratch and are reminiscent of April's Southern and Hispanic heritage)
Feb. 24: Flavors of Jamaica (Serves Caribbean inspired and traditional Jamaican food in Pontiac)
"Many of us are not from the Metro-Detroit area, and so this event was a great opportunity for us to get to know where we can go locally if we want to support black-owned businesses," Adel Andemeskel (M2), the president of the SNMA chapter, said. "We also learned a lot about how to host event series involving food, since it was the first time that our SNMA chapter has done an event like this. The lessons that we have learned and the obstacles that we overcame during the planning process will help us in the future to make these events smoother, and better yet bigger than they were before."
The turnout of the event was the most successful in the OUWB chapter's history, according to Andemeskel. Over 25 OUWB students and faculty enjoyed food with SNMA at each event.
"What we loved most about these events was that students and faculty would stay long after the food was served in order to mingle and converse amongst each other in fellowship," Oyin Akinpelu, the secretary of the SNMA chapter, said.
Shortly after highlighting Black-owned businesses in the Metro Detroit area, the SNMA was also involved in the Mission Baptist Church Community Health Fair, where they provided blood pressure screenings and were able to provide free groceries (from Gleaners Food Bank and Micah 6) along with other OUWB organizations and community organizations.
For their upcoming event, the officers of the SNMA are planning on hosting an Underrepresented in Medicine Physician Panel, which aims to allow medical students and undergraduate students who are both interested in a career in medicine and identify as underrepresented to hear from current physicians who will give their perspectives on their path to medicine and challenges they have faced along the way, in addition to encouragement and mentorship.
SNMA is dedicated to assisting current and future underrepresented minority medical students, serving underprivileged communities, and increasing the number of clinically outstanding, culturally competent, and socially active physicians. The OUWB chapter of the association strives to leave a strong impact on the medical treatment provided to the people of Detroit and the surrounding areas.
Together as medical students and future physicians, Ramos, Andemeskel and Akinpelu emphasized the importance of being culturally conscious of different ethnic, national, religious and other backgrounds in order to provide a safe environment and improved medical service to the underrepresented population.
"When patients feel safe and comfortable, they are able to adequately express their health concerns while also being open to making recommended changes because of the trust they have built as a result of our empathy as student doctors and eventually doctors," Andemeskel said. "When we see patients and our community members as they are, recognizing our similarities and differences, it makes for a cohesive community in which there is respect, love and growth. This is the ultimate vision for all communities in Oakland County, Michigan, the United States and the world."