Exploring Inclusion in the Workplace: Diversity Workshop and Mixer
Career Services at Oakland University hosted the third annual Exploring Inclusion in the Workplace: Diversity Workshop and Mixer in the Founders Ballroom of the Oakland Center (OC) on Tuesday, Feb. 15 from 4 p.m. to 7 p.m.
The event was sponsored by Rocket Companies — a Detroit-based leader in the mortgage industry — and Meritor — a global supplier for commercial vehicle and industrial markets headquartered in Troy, Michigan.
During the first half of the event, representatives from Rocket and Meritor gave overviews of what inclusion looks like in their respective companies. They discussed company culture, employee resource groups, passion for breaking inclusion barriers and support and accommodations for employees from all backgrounds.
"At Rocket Companies, we strive to keep diversity, equity and inclusion at the forefront of everything we do," said Jasmine Hines, university relations manager of Rocket Central. "Our mission is to empower everyone to become the very best version of themselves – we want all our team members and everyone who interacts with our company to feel included, accepted and comfortable being themselves."
Following the presentations from the two companies, Rocket facilitated roundtable discussions with students about the unique challenges some face surrounding the topics of race, culture and religion, disability and accommodation status, gender and sexuality and veteran status.
"We were able to offer insight and perspective, while also learning from the students' experience," Hines said. "It was amazing being able to impact so many Oakland students and get their insight as well!"
The workshop was broken into two segments, with the first intended to be solely educational, according to Kelly Dorner, the director of internal operations for Career Services. 
"The first half of the event was all about really trying to give students a meaningful opportunity to have discussion around what inclusion looks like in the workplace tied to those very important identities…" Dorner said. "Anywhere can have a glossy brochure that says they are an equal opportunity employer, right, but what are the things that are really happening day in day out in that particular workplace culture that make it someplace inclusive?"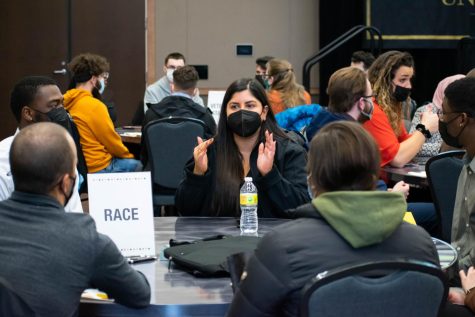 To expand beyond the perspective of Rocket and Meritor, the next part of the workshop was an employer networking environment with sixteen total companies. This portion of the workshop was an opportunity for students to ask questions to additional employers about company inclusivity.
"How we went about selecting these employers is we had recommendations from our Career Consultants in Career Services who have relationships with these companies as part of their career communities…we may know [the companies] personally and have even alumni or students who are currently working there and we have a little bit of an inside idea of what it's like at those companies, but it's definitely not just like we pick some brands that we know students will know and then they're invited," said Sarah Swarz, marketing and events coordinator of Career Services. "It's definitely a research process that we take very seriously." 
As for industries, Career Services aimed to keep the company selection all-encompassing. While they were not able to include all fields, there were nonprofits, finance, health and other companies in attendance — bringing a fresh perspective from last year's line up. 
"My passions around this event are very specifically about teaching our students what red flags in companies look like…" Swarz said. "We are hoping that programming like this event will help students learn how to identify those companies who actually go beyond just saying that they're inclusive, and they actually are." 
Another networking opportunity for students to connect with professionals will be the Exploration Fair: Opportunities in Healthcare and Natural Sciences which will take place on Friday, March 18 from noon to 2 p.m. in Banquet Room A of the OC. Students will be able to explore job shadowing, volunteer, full-time, part-time and internship opportunities at natural science and healthcare companies. 
To stay updated on Career Service events, check them out on Campus Labs or Handshake. Students can also schedule one-on-one in-person or virtual appointments with Career Consultants for any and all career questions from career fair preparation, resume and cover letter review and job search help to mock interviews and LinkedIn and social media advice.
Stop in to the Career Services office in Room 154 of North Foundation Hall, or call (248) 370-3250 or email [email protected] to schedule an appointment.