International Education hosts Study Abroad Expo
International Education hosted the bi-annual Study Abroad exposition (expo) on Thursday, Feb. 17 in the Oakland Center Habitat. The expo was open to all OU students to learn about the wide range of study abroad options available through the university.
Alex Zimmerman, director of International Education, stated the expo aimed to increase visibility of study abroad opportunities for students.
With almost 300 different programs to choose from in roughly 50 different countries, deciding the best-suited program for yourself can be challenging. The expo offered students an opportunity to explore study abroad options with faculty and program directors available to answer questions and provide insight into the various study abroad programs.
Zimmerman listed several advantages to study abroad opportunities — stating how they allow students to learn how their course material is implemented in the real world, and gives them the chance to make connections with people around the globe.
He also notes that students tend to return from their study abroad experience with increased self-confidence and a better understanding of their future goals and aspirations after graduation.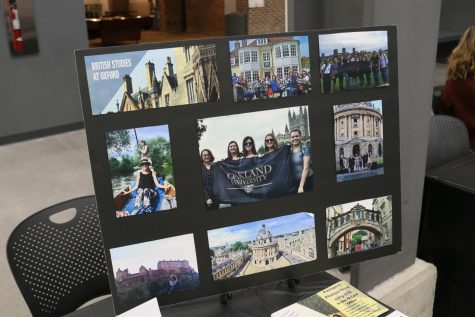 "I think study abroad is one of the best things you can do here during your time at Oakland in terms of the benefit to students' futures, their sense of satisfaction with their university education and with the careers they end up in. All of that is impacted by study abroad," Zimmerman said.
Study abroad student advisor, Malaena Caldwell, studied abroad during the 2020 winter semester in Orléans, France. Caldwell states that, while her experience was cut short due to the COVID-19 pandemic, her time abroad allowed her to grow both as an individual and French-language learner.
"When you learn a language I feel like there's always one strong thing that you're good at that stands out and one thing that's a weakness. My strong suit is grammar and vocabulary and my weakness was speaking. My accent wasn't that great. Right when I was leaving that barrier was going away for me," she said.
"I just recommend it to everybody because it changes you," Caldwell continued. "I came home from my study abroad and I gained so much more confidence having to travel alone for the first time. I feel like that implicitly teaches you how to be more confident. I just became so much more sure of myself while being over there."
Conor Urban, also a study abroad student advisor, studied abroad in Orléans, France in the fall of 2019. He highly encourages students to take advantage of study abroad opportunities, especially students studying language. He mentioned not only was his experience beneficial to his French language abilities, but it offered him perspectives from different cultures.
"In a broader sense, I think it's really good for everybody to study abroad because [I know I] realized that a lot of where you come from kind of influences how you think of things. Even just being in other places, you realize that everything you know is kind of based on where you live," Urban said.
"I think that that's also an important part of studying abroad, realizing that we're kind of creatures of our own habitat that we grew up in. I think it helps you when you come back to realize the broader base of perspectives there are in the world."
Zimmerman, Urban and Caldwell all strongly recommend students to reach out to the International Education office, even if they're unsure about the opportunity to study abroad.
"If you're thinking about it and unsure, but just have an inkling, just come talk to somebody at our office," Caldwell said. "It doesn't hurt to ask questions. The best thing you can do is just see what opportunities are available and then assess what is best for you as an individual. Talking to us will be the best way to go about that."
International Education offers appointments with staff, and/or walk-ins every Monday through Thursday from 1 p.m. to 3 p.m., and can always be reached via phone-call or email. For more information about study abroad, students can visit their Oakland webpage or reach out directly to the staff and faculty.