Looking for a go-to bakery? Try downtown Rochester's Give Thanks Bakery
Rachel Yim, Science & Technology Reporter
February 23, 2022
Love pastries but haven't found your go-to bakery? Try Give Thanks Bakery — Michigan's Premier European Artisan Bakery.
First founded by Gerald Matthes, the Give Thanks Bakery's tradition dates back to 1998. Its tradition continues as another German family – Dietrich and Katy Knoer – is carrying on the ownership of the bakery since Jan. 2021.
"We were customers of the bakery, and we started talking about his desire for a succession plan five years ago," Knoer said. "The food and beverage industries were hit so hard, but for us, this time [early pandemic] gave us a lot of chance for reflection and intentional decision on what we would do next. That's what really led us to stepping into this ownership."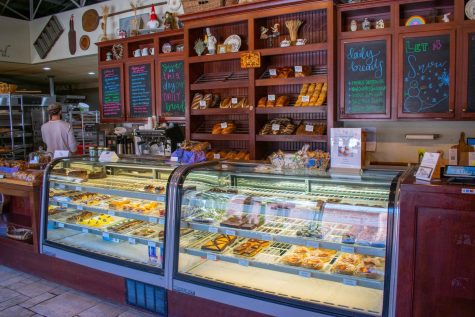 The Knoers both have master's degrees in Business and Administration from the Tuck School at Dartmouth College, and have long looked forward to having a business together. Knoer said their love for food and passion for baking led them to carry on the tradition of the Give Thanks Bakery.
"We are both foodies," Knoer said. "We love to eat, and we are very adventurous eaters. There are tricky things in a lot of food services and businesses because there are not many people who are both good business people and have the required culinary skills to run a business like a bakery. So, what we bring to the table is love of food, good taste, passion for quality and understanding of business operations."
Then, what's so special about this bakery? Knoer emphasized two things: artisan products made by old-fashioned technique and the culture.
"We live in a very special corner of the bakery market, where we make artisan products. Everything we make in the bakery is from scratch and by hand, and we use old-world techniques with no machine involved."
Another, yet the most important factor, is the culture. Knoer said its culture is rooted in the spirit of gratitude, generosity and service to others – their customers, community members and employees.
"Many people who visit our bakery tell us they love the products we make, but the thing they love most is how they are treated when they come in here," Knoer said. "We know a lot of customers by names, we know their favorite pastries they order. We always try to be very accommodating to their needs or requests."
In order to provide the best possible pastries and service to the community, the bakery has a tremendous team of 22 workers including bakers, pastry chefs and counter staff.
"It's a little bit family-like," Knoer said, describing her team. "We're very fortunate to have a group of people, many of whom have worked for the bakery for a long time. They are skilled artists in their particular areas, and it makes for a successful combination."
The bakery is currently open in Rochester and Midtown Detroit. However, the Knoers have announced they will open another location in downtown Royal Oak (317 Main St.) in spring of 2022.
"We are stepping into a historic bakery called Hermann's Bakery that has a history of more than 100 years," she said. "We have the opportunity to reactivate this historic bakery as the Give Thanks Bakery. We hope to have the ability to produce pastries and soft breads there, and also have a retail space in front of the house. When that is done, we'd have three places to buy things. We will continue to make bread in Rochester, and we will probably put much of our pastries operations in Royal Oak."
If you are a first visitor, Knoer recommended three most-beloved pastries from their menu: almond croissant, French sourdough 'Levain' and cookies (rustic walnut and earthquake cookies).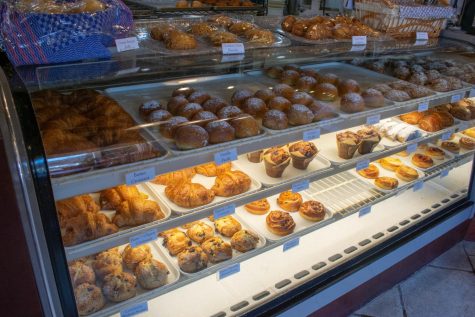 Another pastry from the bakery to note is 'Paczki [poonch-key],' which originated from Poland. The Give Thanks Bakery is currently making baked Paczki for a seasonal sale in Midtown or Rochester starting Feb. 15 through Mar. 1.
"It's basically a fried donut, usually filled with chocolate, cream, or jam," she said. "Our Paczki are different because they are baked. Fried foods are not really part of our baking heritage. We offer them with fillings of variant cream which are like vanilla, chocolate, raspberry cream and lemon."
Despite the many challenges they faced during the COVID-19 pandemic, the Knoers are hoping to continue growing the bakery both on the production side and on sales side, as well as carrying on their German heritage.
"We have the understanding of the unique heritage of this bakery, but at the same time we are situated in America with most of our customers being Americans," she said. "We have a unique bicultural family that can make the most of the special blend."