Newly-named captain Seth Tucker ready to lead Oakland baseball to success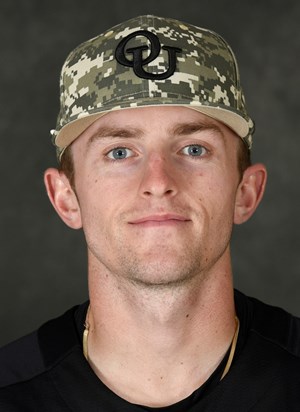 He didn't know it, but Seth Tucker's baseball journey was about to make a major turn one day when his phone rang.
On the other end of the line was the Head Coach of the Oakland University baseball team, Jordon Banfield.
Tucker, who at the time was in the transfer portal after three seasons at Hendrix College in Arkansas, built a strong relationship with coach Banfield, and things took off from there.
Not long after, Tucker committed to Oakland to finish out his college career.
"[Oakland has] great facilities. I love the dome," Tucker said on why he chose Oakland. "I didn't see many other D-1 opportunities, and this one I felt was a good fit. I'm really glad I chose [Oakland]."
In his three seasons at Hendrix College, the outfielder totaled 99 hits, 56 runs, 39 RBIs, with 27 walks and 39 stolen bases.
Not only is Tucker a threat at the plate, but the 5-foot-10 senior is also a key piece in his team's bullpen. During his stint at Hendrix, Tucker hurled 59.0 innings and recorded 40 strikeouts.
"I throw sidearm, so it comes from down low," said Tucker. "So lefties usually see my ball very well. So basically I throw to right-handed hitters. I would say I'm more of a setup guy, more of a situational pitcher."
Once Tucker arrived at Oakland, which he said was a place he felt he could compete for playing time and crack the starting lineup, he wasted no time making an impact. 
Last year, his fourth collegiate season, Tucker started in 26 games, and made 36 appearances in the outfield. The transfer batted .233 with 21 hits in 90 at-bats. He also posted a .322 slugging percentage, and a .289 on-base percentage in his first year with the Grizzlies.
"Last year, coming into Oakland, being the leader, being 'the guy' [that I was] at Hendrix, I wasn't 'the guy' here," Tucker said. "That was kind of hard for me to deal with last year, so I kind of took a step back and I wasn't much of a leader. But now that I'm comfortable around all these guys, I've stepped into that leadership role again."
Now, in his fifth collegiate season and second with Oakland, Tucker has been named a team captain along with senior infielder Michael Stygles.
In a previous interview, Tucker said it's "an honor and a privilege" to be named team captain.
The Oakland baseball team is set to begin its season next weekend. The Grizzlies will be on the road for a lengthy period of time before playing their first home game. 
The team will begin its season in Bakersfield, California, and will make stops in New Mexico, West Virginia and Illinois before their first home game on March 15.
Aside from its normal Horizon League schedule, the Grizzlies are slated to take on non-conference schools such as Rochester, Bowling Green, Aquinas, Michigan, Central Michigan, Northern Illinois, Michigan State and Pittsburgh. 
Head Coach Jordon Banfield will look to lead his team to success in 2022, following a subpar 18-29 campaign in 2021. One guy he'll lean on to carry the load: Seth Tucker.