World-renowned Harlem Globetrotters perform at O'rena
The Harlem Globetrotters came to Oakland University for two performances on Saturday, Jan. 22 at 2 p.m. and 7 p.m. as part of the Spread Game Tour. With a nearly full O'rena for both shows, the Globetrotters amazed the crowd with their slam dunks, trick shots and lots of dancing. 
The Globetrotters have been around since 1926, mixing athleticism and basketball skills with family-friendly theatre and comedic entertainment. They really are worldwide icons, and they're set to go on an international tour following the North America tour throughout 2022. 
"This [the Spread Game Tour] is about bringing love, joy and peace — not only on the floor but off the floor … We want to represent one of our fallen pioneers Mr. Frederick 'Curly' Neal who played with us for 22 years — he was number 22 — and he spread the game all over this country," player Too Tall Winston told Fox 2 News. 
The 7 p.m. game at OU kicked off with a not-so-grand entrance by the Globetrotters' all-time rivals, the Washington Generals. Their walk out song blaring "here comes the general" from the musical "Hamilton's" "Right Hand Man" was drowned out by the crowd's overwhelming boos. 
That sad walk out was followed by the exciting Globetrotters' introduction. Each player got a chance to show off their ball handling skills, spinning the basketball on their fingers and behind their backs.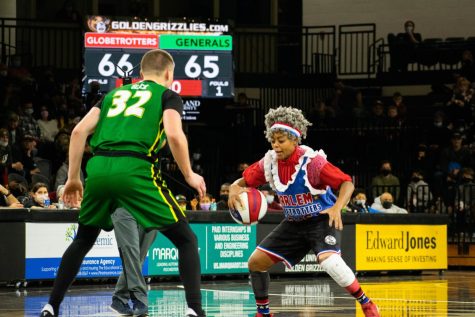 Only three minutes into the game, the score was 21-19, and between each quarter there were skits from the team and its supporting characters. One crowd favorite was Granny — the Globetrotter's biggest fan who just couldn't stay seated during the game — who later impressed the audience with her basketball skills in a one-on-one against a General. 
Mascot Globie made an appearance, sliding across the floor early on in the performance. The audience later saw his bigger brother run, and repeatedly fall, onto the court. 
Half court shots as well as rewind and slow motion playing were some game highlights. One player even scored by laying on top of the backboard, catching the ball and dropping it into the net — not without being scolded by the referee. 
The Globetrotters received one foul when the team's only female star on the team, Torch George, jumped onto a General's back. The Generals did not receive any fouls. The game ended in a win for the Globetrotters with a final score of 111-102. 
Globetrotters merchandise including basketballs and jerseys were for sale in the lobby. After the game, families and fans rushed to the court to meet the team and get their basketballs signed by the players. 
Andrea Doa — graduate assistant of marketing, fan engagement and gameday experience — was working in the media booth during both performances with her team to control sound, lights and video boards. 
"Both shows were pretty packed, which is awesome," Doa said. "And it's really nice to be able to bring new people out to the arena, people that wouldn't normally come to campus and get exposed to our facilities, so it's a really cool opportunity for athletics and Oakland as a whole."