Leadership OU connects students and alumni for networking opportunities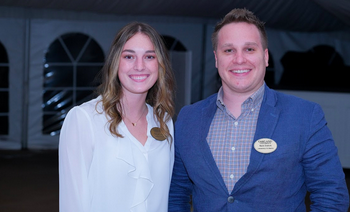 Rachel Yim, Science & Technology Reporter
January 19, 2022
For OU students who are looking for various opportunities in their fields, the Leadership OU program connects both graduate and undergraduate students with successful OU alumni, and provides leadership, mentoring and networking opportunities.
Leadership OU coordinates a formal mentorship program that allows 15 OU alumni to share their experiences at OU and their journey afterwards with 15 student leaders at OU. It pairs each student with an alumni mentor who has similar interests, and the two will meet via monthly meetings for the duration of the eight-month cohort experience, which runs from September 2022 to April 2023.
"Each student-alumni pair meets on a regular basis over various activities such as on-campus events, job shadowing, video chats, or phone calls," Amanda Silvestri, student engagement and outreach coordinator, said. "All student/mentor relationships are different, yet many [partners] keep in contact long after the formal conclusion of the program."
As an engagement and outreach coordinator for OU students, Silvestri's primary responsibilities include coordinating the Leadership OU program as well as managing numerous student engagement initiatives and events to promote the OU Alumni Association. She often meets with OU alumni, assists in coordinating commencement speakers and attends alumni engagement campus programs and events.
The highlight of Leadership OU is featuring prominent alumni speakers who give insight on their OU experience, how they got to where they are today, and advice on the topics of leadership, networking and mentoring.
Although the program has taken on a hybrid approach over the past two years due to the COVID-19 pandemic, Silvestri said strong connections have still been made by inviting virtual mentors and speakers who live in different states. Past speakers include OU alumni employed at Fiat Chrysler Automobiles, Beaumont Hospital, Detroit Economic Growth Corporation, Curve Detroit, ABB Robotics, etc.
"It is wonderful to be able to reach different alumni from across the country and I can't wait to see what other opportunities it can provide," Silvestri said.
In fact, Leadership OU has received Silver Award for the Best Student Alumni Program in 2015, Bronze Awards for Best Practices in Alumni Relations and Best Volunteer Engagement Program in 2016.
She also emphasized the importance of the spread of words about the program in order to recruit a diverse population of students and alumni from different backgrounds and fields of study as it will provide participants with an experience abundant in learning from and connecting with others.
"Leadership OU is a wonderful, award-winning program that provides a lot of opportunities for networking and self-exploration," she said. "It doesn't require a huge time commitment as the only requirements for students are to meet with their mentor at least per month and attend the 2-hour monthly speaker sessions. The program is not only rewarding, but also fun. As a past student mentee participant and coordinator of the program for the past two years, I can say this program is truly wonderful."
In addition to a variety of opportunities, students will receive a diploma frame following completion of the Leadership OU program requirements. Students can apply by submitting the online application. To learn more information about the program or the Office of Alumni Engagement, visit their Facebook page or website.