Grace Nolan: Love the major, love the sport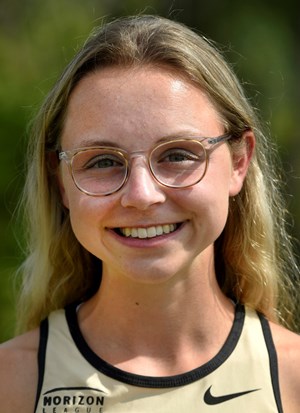 Being a student-athlete at the collegiate level can be challenging in many aspects — playing a sport while pursuing a degree takes discipline and good time management skills. Time is a finite resource, especially for these athletes. Grace Nolan gave insight into her experiences balancing life as a student and athlete.
Nolan, a junior studying biomedical science with the goal of becoming a physician, is also on the track and field and cross country teams. Growing up playing sports such as gymnastics, soccer, cross country and softball, she later realized her love for running and decided in high school to focus on it.
Despite the challenges of balancing school and sports, Nolan says her passion for running is what keeps her motivated.
"It's hard, but I think you just have to love both," she said. "If I didn't love my major or If I didn't love the sport, it wouldn't be possible. So I think it just comes down to if it's something you are passionate about, you make time for it. It never feels like too much because there is nothing else I'd rather be doing between either."
Like other college students, Nolan isn't immune to semester struggles.
"It can get overwhelming, my roommates and I were actually just talking about this the other day," she said. "You'll be having a solid week in school, but it's like, oh man, tough practices. Or it's like you had a great race, but I'm behind on school work, and I'm stressed out. That can be hard because it is hard to be winning at both. I think that just comes from trying to find a balance of putting your focus on both. I think missing that time to work on class for travel and stuff can be pretty overwhelming. Like I said before, if you love both, you'll find the time."
The OU cross country team had a successful season in the fall while facing challenges. Like most sports teams, COVID-19 did not help as it put a roadblock in their journey to success.
"I think our team performed really well as we ended up coming in second in the Horizon League Championships," she said. "We were really hoping for that win, but we faced a lot of challenges. A few people, myself included, faced some minor injuries here and there. Also, the COVID-19 situation last year really prevented us from doing a lot of the team training. So I think coming out of that and still coming together this fall and pretty much picking up where we left off a whole year before —  I think we did a pretty good job. [I think] we have a pretty good shot at a win next fall."
In the past cross country season, Nolan experienced a few takeaways — including patience and the ability to bounce back from adversity. Due to health issues, this was her first season competing.
"For me, even though it was my third year on the team, it was only my first year being able to compete in cross country because of health issues," she said. "I think my biggest takeaway from that is patience is key. If it's something you love, you can come back from anything. For a while, I was doubting if I could make a comeback. I think I'm still working at it, but you can come back from anything, especially when you have a team that supports you."
As track season gets underway, Nolan has high hopes for the season: team success as well as individual success in long-distance running. The ultimate goal for Nolan is to make it to the Horizon League Championships.
"I'd love for our team to place well at the Horizon League Championships meet," she said. "As far as an individual goal, training for the mile is tough because that is not really my specialty. But I guess looking to outdoor when I move up to longer distances, I'd love to make it to the Horizon League Championships in the 5k and hopefully place, but I gotta make it first."
Nolan is looking forward to getting back to what she loves. Collegiate practice is challenging, but it still is an exciting part of her day.
"Just being back to doing what I love," she said. "It just feels so good to be part of the sport again after some much time away. Continuing to work hard with my teammates every day. Going to practice can be a brutal grind sometimes, but it's still the best part of my day."
Part of being on a sports team is the opportunity to meet and develop friendships with others on the team. Nolan describes her teammates as her best friends.
"My teammates are my best friends," she said. "It just feels really good to walk out knowing that you're with people that you love and care about. You're together doing something that you love and care about. It's really just an awesome environment to be a part of."