th!nk it LOUD spreading positivity and compassion, empowering young hospital patients
th!nk it LOUD — a student-run nonprofit organization on campus — is dedicated to positively impacting young patients in hospitals by providing them bracelets with words of affirmation, motivation and compassion. Also a registered 501(c)(3), th!nk it LOUD "believe[s] that a single action can make a difference in the community, and that collective action can greatly impact the world," according to their website.
The organization was founded in 2019 by Jordyn Bixman and Nicholas Hulscher when they wanted to get involved in volunteering at local hopsitals.
"We thought th!nk it LOUD would be the perfect way to give patients and families something that empowers them and gives them support — something they can look at that [will] lift their spirits," Bixman, also the organization's co-director and registered president, said.
Working to uplift the young patients they interact with, th!nk it LOUD helps the patients think of an inspiring word that lifts them up, and stamps it onto a completely customizable bracelet. The organization collaborates with local hospitals and nonprofits — such as The Rainbow Connection, Beaumont Royal Oak and Kids Kicking Cancer — to achieve their goals.
th!nk it LOUD works with individuals facing life-altering illnesses or adversity. Bixman mentioned the personalized word stamped on the bracelet can be anything the patient likes, perhaps a pet name, favorite Marvel superhero or empowering word or hashtag.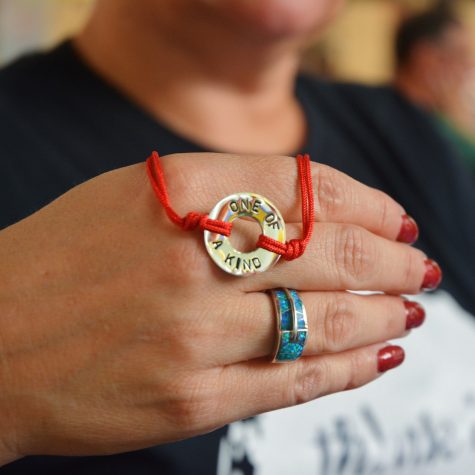 As a nonprofit, the organization is funded completely through fundraising and donations. According to their website, money raised goes directly to purchasing bracelets, bags, stamps and other materials they need to make their work possible. Bixman mentioned money may also go directly to the patient's families.
"Our main goal is to spread empowerment and positivity — we definitely believe in the power of being positive," Bixman said. "It's not a scholarship, nobody has to be chosen — everyone is chosen, and everyone gets the chance to participate and feel [supported]."
The idea of empowerment and positivity ties into the founders' idea to make the "i" in th!nk it LOUD an exclamation point. It serves as a reminder for the patients to be proud of their words, proving those words have power.
th!nk it LOUD's Vice President Kori Langdon mentioned giving back through the organization is "one of the most rewarding things in life."
"Being able to hand stamp the bracelets and make those connections with the kids and the families — to see the amazement while we're putting the word they put on paper onto the bracelet — is so rewarding," Langdon said. "Just having [something] to take their mind off [their illness] and bring a smile when they're battling what they are, being that source of happiness is really awesome."
th!nk it LOUD's next fundraiser is Monday, Nov. 22 at Blaze Pizza in Auburn Hills. Anyone looking to get involved with the organization, or seeking more information, can check out their aforementioned website, GrizzOrgs or follow them on Instagram at thinkit_loud.