Swimming and Diving rolls past UIC in first conference meet
Oakland University hosted the University of Illinois-Chicago [UIC] in a swim meet on Saturday, Nov. 6. Oakland's history against UIC is 14-0 since 2013 when they joined the Horizon league.
Last time the two teams met was 2021 on Grizzly territory, defeating UIC 382 to 200.
In the Horizon League Championships, UIC women placed second with 544.5 points, while their men were able to pull together 481 points placing them third out of seven teams. Both Oakland University's men and women brought home first at the championship. The men's team tallied a total of 251 points Thursday, 559 points Friday and 819 points Saturday. The women pulled together 373.5 points Thursday, 689 points Friday and 939 points Saturday.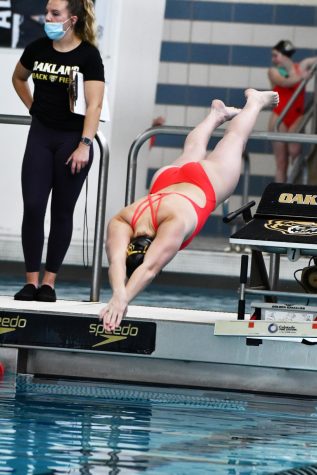 The first event of the day was the 200-medley relay. The Oakland men's swim team took first place with a combined group time of 1:30.11, followed up with a second place spot as well, with a combined group time of 1:30.80. Third went to UIC. For the women, Oakland took all top three spots with teams consisting of Jewel Huang, Sydney McDowell, Susan LaGrand, Sohvi Nenonen, Jordyn Shipps, Taylor Bailey, Sophia Davis and Ronja Riihinen with times of 1:44.92, 1:45.31 and 1:47.82.
The next event was the 1000 free stroke. For the women, second place went to Oakland's Sonya Zubenko with a time of 10:42.69. Third went to Lola Laenen with a time of 10:54.72. For the men, first place went to Oakland's Jonas Cantrell with a time of 9:34.02.
The 200-yard freestyle finished with Oakland's Emily Aycock first in 1:53.19. On the men's side Oakland's Marko Khotynetskyi finished in first with 1:40.70 and Oakland's Ben Daiv pulled third with 1:42.63.
Oakland's Huang took first and Abey took third in the 50-yard backstroke. While Rudy Aguilar-Fernandez, Jack Wike and Will Barton took first through third in this event. Bailey and Logan Belanger took first and second for Oakland in the 50-yard breaststroke. For the men, Ryan Geheb took first.
LaGrand took first and Mady Cislo took third home to Oakland in the 100-yard butterfly. Mack Flowers and Sebastian Aguirre took first and second home for the men's portion of the event. First place was Shipps and third place Nenonen pushed hard with 30 seconds between each placing in the 50-yard freestyle, while Bart brought in first place for the men.
Alyssa Ruhf scored a 227.10 in the one-meter diving placing her third and Scott Scrivano scored 246.98 earning him second place for Oakland. Ruhf scored a 236.55 in her 3 meter dive event getting her a second place spot, while Scrivano pulled out another second place spot with a 249.68 score in his portion.
Third place in the 100-yard freestyle went to Oakland's Ronja Riihinen for women and first place to Rudy Aguilar-Fernandez. For the women — Shipps, Kieran Brough and Huang brought home top three spots in the 100 yard backstroke. While Marko Khotynetskyi and Wike brought home the top two spots for men.
Sydney McDowell brought home first and Logan Belanger brought home third for the 100 yard breaststroke, Bart, Javi Quinnones and Geheb took all three top placings. Aycock and Jonas Cantrell brought home first for Oakland in the 500-yard freestyle. 
Both men and women took top three spots for the 50-yard breaststroke. LaGrand, Davis, Mia Keranen, Flowers, Aguirre and Herrick are the six who were placed. Continuing the trend — LaGrand, Shipps and Bailey filled the top three for the 100-yard IM. Bart and Andrew Bernsdorf took top two spots. Both Oakland men and women took first and third in the 200-yard freestyle relay.
UIC put up a tough fight the whole meet. It just was not enough to break the streak against Oakland. Oakland won with a final of 191 points to 109 for the women and 204 points to 96 for the men.