Posties predict the University of Michigan v. Michigan State game
This year's installment in the University of Michigan (U-M) v. Michigan State (MSU) football rivalry is set to be one of the most important in the series' history. Both teams will be undefeated going in, and the winner will control their own destiny in the Big Ten East. 
With the eyes of all football fans in the state on this game, the sports section here at The Oakland Post thought it would be fun to offer our thoughts on the game. We're going to explain who we think will win and why.
So, without further ado, let's get started:
Christian Tate, Sports Reporter — Spartans
Last year, despite being the consensus underdog going into the game, the Spartans defeated the Wolverines 27-24 and took the Paul Bunyan Trophy back to East Lansing. Despite their ranking being lower than the Wolverines, I'm going to pick the Spartans to win and retain the Paul Bunyan Trophy. According to their season player stats, their offense is much more dynamic and effective than what the Wolverine's have been able to manage this year. A talented and explosive offensive core and a hyper-active strong defense makes a team that I'd put my bets behind any day. That, and I was a Spartans fan before I was a Golden Grizzly. It's MSU all the way for me.  
Brittany Kearfott, Sports Reporter — Wolverines
One of two iconic games played yearly, I think this is the first time in years these teams have been so comparable in stats with a 6-0 and 7-0 record, while also being ranked in the AP top 10. It is tough to say who will come out on top. I am a hard U-M fan, born and raised. So I really hope they win, however they have a history of choking when it comes to facing MSU. With that said, I have to go with my heart, and say U-M in a nail biting close game.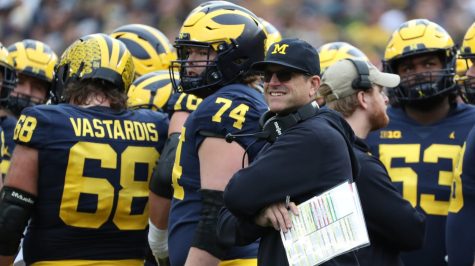 Reece Taylor, Sports Reporter — Spartans
I'll keep it simple: neither team is a slouch. Both are top 10 in the AP poll for a reason. That said, Mel Tucker has Michigan State playing well past their expectations. This is a strong unit that was underestimated going into the season that plays for their coach and each other. U-M, though a great team, constantly has rumors surrounding Harbaugh. Even with this considered, MSU had a bye week this weekend, giving them a full two weeks to prepare for U-M, whereas the latter has one. They're gonna watch U-M's match with Northwestern closely. MSU in a close game for me.
Jeff Thomas, Editor-in-Chief — Spartans
It's been a fun season watching these two teams compete. Neither one is perfect, but they keep finding a way to win. MSU is the kind of team that sticks around in games and punishes teams on both sides of the ball. U-M has the talent to bust open games with high impact plays. From what I've seen this season, I'd say that these teams are pretty evenly matched. They've both been winning games, but this Saturday is going to be when one team finally secures the signature win that could propel them to the Big Ten title game, and maybe even the College Football playoff. I see the game coming down to two key factors. The first being that the Spartans are playing at home. Under coach Mark Dantonio, MSU football carved out an identity as a tough underdog football team. After a couple tough seasons, that mentality seems to have come back this year under new head coach Mel Tucker. I have to believe that this team is going to fight like hell to win this game in their home stadium. The second factor is U-M Head Coach Jim Harbaugh. His tenure leading the Wolverines hasn't seen much success in high stakes football games. It's no secret that U-M has struggled to regain their old glory the past two decades, and Harbaugh has not been able to get the monkey off their backs since he's been in charge. With Harbaugh at the helm, I don't have faith that the Wolverines are going to be able to respond when MSU really puts the pressure on. I see the Spartans as the tougher team and expect them to come away with the win Saturday.
Matthew Scheidel, Sports Editor — Spartans
Well, well, well — what a game we have here. These two teams are almost identical. Neither team has played a team with a record over .500 this season, so this will be the first true test for both teams. They both pride themselves on running the football and playing good defense. Blake Corrum and Hassan Haskins have represented the two-headed monster in the backfield for the Wolverines, while Kenneth Walker III has had a breakout season for the Spartans, becoming a Heisman trophy candidate. 
Both teams have had their fair share of close games that probably shouldn't have been that close. Both teams struggled to put away Nebraska—MSU even had to go to overtime to get the win. U-M struggled to beat Rutgers, while MSU had a stressful game against an Indiana team that was down star quarterback Michael Penix. It hasn't always been pretty for either team, yet they are both unbeaten.
The big difference is that MSU has had success through the air, while U-M has yet to find consistency in that area. Payton Thorne has played surprisingly well for the Spartans this season, while Cade McNamara hasn't been much more than a game manager for the Wolverines. Jayden Reed and Jalen Nailor have emerged as two of the top receivers in the Big Ten for MSU, while U-M lost their top threat, Ronnie Bell to a season-ending injury in week one and have struggled to replace his production. This is a tough game to pick because both teams are so similar, but I'm going to pick the Spartans because I think the big-play potential of their passing game will be too much for the Wolverines to handle.
The game kicks off Saturday, Oct. 30 at noon, and will be televised on FOX.