Mentalist Duo turns some skeptics into believers at Thursday Night Mainstage
The Habitat was captivated last Thursday, Oct. 7 as Mentalist Duo and real life couple — The Evasons — seemingly did the unthinkable. Filled with a mix of skeptics and believers, Tessa and Jeff Evason certainly had the audience thinking: is mind-reading real?
The night was unpredictable and audience members were actively involved with the show. From Tessa correctly guessing the amount of contacts on one attendee's phone without looking, to audience members coming forward with random objects for Tessa to read — the show was ever-changing.
One attendee had a bracelet that was given to her by a friend after her dad passed away. Not only did Tessa guess the object (blindfolded) — she guessed the friend's name and vocalized how meaningful the bracelet must have been.
"I began with this sort of phenomena [when I was a little girl]," said Tessa. "I grew up in the Caribbean [and one] of my grandmothers actually read tea leaves. There was a strong belief in strengthening the intuition — so that's where it began for me [and I] developed some skills along the way."
There were certainly some skeptics in the audience, but by the night's end, most were left perplexed.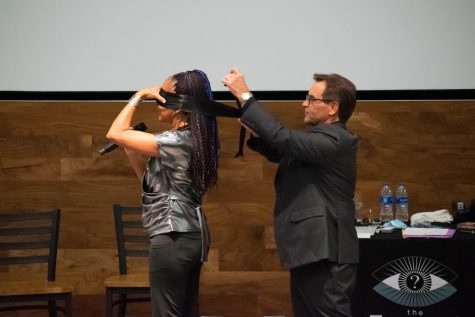 Megan Jaworowicz, a senior majoring in Actuarial Science, was an instrumental part in a couple sections of the show. Although she admitted to being generally skeptical, The Evasons certainly had her thinking.
"I'm usually a skeptic because I love watching these things, so usually I [say] 'oh, I don't know' — but it's definitely different seeing it in person, being on the stage, and being that shocked," she said.
At one point, a group of attendees were asked to select a colored envelope to hold. Facing the other direction, Tessa was able to correctly identify who was holding which color, along with adding additional insight as to why they selected that particular colored envelope.
"[Tessa] was saying how the color we chose went with our energy," Jaworowicz said. "She said [to me] 'yeah, you don't belong over here, you belong down here because you're sweet and kind,' And I thought, 'how do you know that?'"
The Evasons duo works with Jeff interacting with the audience and narrating what's going on — almost like the emcee. Tessa stays on stage and does what most would think to be impossible: reading minds and energies.
Jeff mentioned the energy at Oakland during the show was good, and the crowd size was decent. In lieu of the COVID-19 pandemic, it felt nice to be in front of everyone in person.
"It's a weird time — people are not accustomed to getting together and seeing shows, especially indoor shows," Jeff said. "It's a weeknight, it's COVID-19 — the crowd was decent, not anything like we've had in the past, but nowhere is. It was a good energy."
Thursday Night Mainstage is put on by OU's Student Program Board (SPB) — their next event is a drive-in movie on Friday, Oct. 15. For more upcoming events put on by SPB, visit their GrizzOrgs page.