Ryan Bass transfers to University of Dayton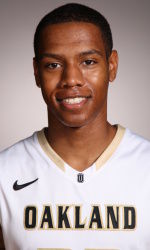 Oakland University announced the departure of senior guard Ryan Bass this week. He will be going back to his home state to play for the University of Dayton. Under the NCAA's graduate student rules he will be eligible to play immediately for the Flyers after graduating from OU.
Bass sat out all of last year for undisclosed reasons, other than that it was not related to academic or athletic performance. The guard played three seasons for the Grizzlies since his true freshman year in 2010.
During his junior and final season at Oakland, Bass was a key asset, averaging 9.3 points, 2.7 assists and nearly thirty minutes per game on 36 percent shooting.  
Bass was looking to earn more playing time this season with Duke Mondy's eligibility expiring, but the emergence of Khalil Felder last season meant that Bass would have likely been coming off of the bench again.
Bass instead opted to utilize the graduate transfer rule to play immediately for Dayton. Bass will look to provide a quick fix at point guard for a team that lost several of their guards to graduation.