Keeper of the Dream Award to receive applications for 30th year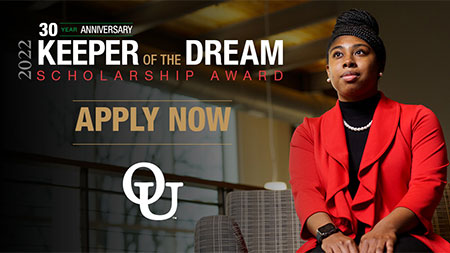 Rachel Yim, Science & Technology Reporter
September 29, 2021
Oakland University's annual Keeper of the Dream Scholarship Awards is now accepting applications. Established in January of 1993, this year's Keeper of the Dream Award will mark its 30th anniversary.
The scholarship recognizes OU students who have contributed to interracial understanding and goodwill. It provides annual scholarships of up to $5,000 for students who have demonstrated strong citizenship, scholarship and leadership.
"I've had to use the access I've had to education, exploration and support in order to provide assistance to those who have not promoting racial understanding to break the glass ceiling for minorities cannot be done without proper education and support," Destinee Rule, one of the winners of the Keeper of the Dream Award, said. "We have to create a legislature that supports that community. Instead of erasing known identities, we have to embrace them."
Omar Brown-El, senior director for the CMI, Gender and Sexuality Center and Veterans Support Services, broke down the criteria expected from all applicants:
Applicants must possess all the following attributes:
Current cumulative grade-point average of 3.0
Demonstrated campus involvement
Record of responsible citizenship
Enrollment at Oakland University in a minimum of 12 credits each term for fall 2022 and winter 2023 semesters (8 credits each semester for graduate students)
In addition to the criteria above, all applicants must submit an essay of 500 words or less describing how they have made a positive impact on improving interracial understanding within the OU community and are required to provide three letters of recommendation by OU faculty or professional staff who will address students' work on interracial and multicultural issues.
"All applicants must complete the application and submit letters of support no later than October 15 and interview with the scholarship selection committee on October 29," Brown-El said.
Students can also be nominated by others for the award. If they are aware of someone who is eligible and qualified, they can fill out a nomination form. All nominations are due by 5 p.m. on Friday, Oct. 1.
The awards are to be presented during OU's annual Keeper of the Dream Celebration where people honor the legacy of late civil rights leader, Dr. Martin Luther King, Jr.
"It is also an opportunity to publicly recognize students who exemplify Dr. King's vision, and to award them annual scholarships for their efforts in promoting interracial tolerance and understanding," Brown-El said.
CMI is available both in-person and virtually to answer any questions students may have. To apply, students must fill out the application form. For additional information about the scholarship or application process, please visit CMI's website or contact the Center for Multicultural Initiatives at [email protected]