Meghan and Harry's experiences are all too familiar for interracial families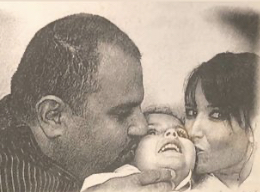 On May 19th, 2018 my family and I among millions of other people around the world, watched a certain fairytale union between a British prince and his American bride: Harry and Meghan, the Duke and Duchess of Sussex. 
I remember the pride we felt, as an interracial family, to see a love like the one we've known represented. I remember my parents reflecting on their own — now 22-year long marriage — and the difficulties leading up to their wedding day. I remember the sense of optimism and change. We recognized what went into that day, what went into their union and how important it was for the world to see their marriage celebrated.
When I first read about Meghan in her famous Vanity Fair interview after announcing she and Prince Harry were dating, I was shocked by how much we had in common. Who was this biracial woman who grew up attending Catholic school and loving theater with a passion for cooking, activism, calligraphy, traveling and writing? Certainly someone I could relate to and wanted to be friends with! Reading about how her dad took two doll sets, one black and one white, to create a customized version of her family as a Christmas gift, brought back so many memories of my family embracing our differences and re-shaping the mold of what was around us. For the first time, I saw parts of myself represented in the media I hadn't seen before. I did and still relate to Meghan. 
Unfortunately, a woman of color being told to dim her light is not an unusual experience, but it didn't make it any less infuriating to see Meghan vilified in the press in such heinous ways. Planning a wedding, starting a family and entering a new chapter in life are stressful life moments by themselves. Adding blatant racism and hateful vitriol from family members, millions of strangers and the press to the mix? No thanks.
Just as my family had understood what went into the Sussex's wedding day, we could understand why they had decided to step down as senior members of the royal family— to find peace.
Racism and complicated family dynamics have significant effects on one's mental health, which is something Meghan made very clear in her interview with Oprah on CBS. During her pregnancy with their son, Archie, Meghan shared that Harry was approached by someone within the royal family who raised concerns about the skin color of their child. While the world might have expressed shock at what Meghan and Harry were experiencing behind the scenes, for my family it wasn't an entirely unfamiliar experience. I was once that baby in question. 
For whatever reason, people continue to critique the Duke and Duchess of Sussex at a truly outrageous level. I applaud Meghan and Harry's bravery and openness in discussing their journey. It makes a difference and puts conversations like theirs on the global stage. If my family relates to their story, I know others do as well. People are not alone in dealing with these hardships. 
To Meghan, Harry, Archie and Lilibet: From a family like yours — including the dogs and chickens — it gets better.