Peace Day Concert celebrates Indigenous culture, Land Acknowledgement Statement
Created by the United Nations in 1981, the International Day of Peace is observed around the world each year as a commitment to fostering a culture of peace. Last Sunday OU celebrated the holiday as the School of Music, Theatre and Dance (SMTD) hosted the fourth annual Peace Day Concert. In celebration of OU's recently adopted Land Acknowledgement Statement, this year's concert featured the music and culture of the Indigenous peoples of America.
"In celebrating Oakland University's new Land Acknowledgement Statement, we thought it was important to have indigenous North American music today," Associate Professor of Music Mark Stone said. "You heard indigenous North American music and saw the dance and heard the prayers [of] the land this university is on … This was about celebrating the land that our university is on … And it was a way to show thanks and respect, gratitude to our Native American brothers and sisters through this concert."
The concert took place outside on the Varner Courtyard Stage. A beautiful sunny evening, an audience of all ages and backgrounds gathered in the courtyard to see featured performers Kevin Locke and the band Spirits Rising. 
Locke (Lakota) is a prominent musical performer, author, and educator from South Dakota who has been performing around the world for about five decades. He's known for hoop dancing, playing the indigenous Northern Plains flute and traditional Native American storytelling. 
Spirits Rising are a musical duo from Metro Detroit comprised of Alice Sun (Powhatan) and Joe Reilly (Cherokee). Their music combines traditional Indigenous music with elements of jazz, folk, blues, hip-hop, and rock. During Sunday's performance, the group was backed by SMTD faculty members Marion Hayden, Gayelynn McKinney and Mark Stone, as well as vocalist Lesley-Anne Stone.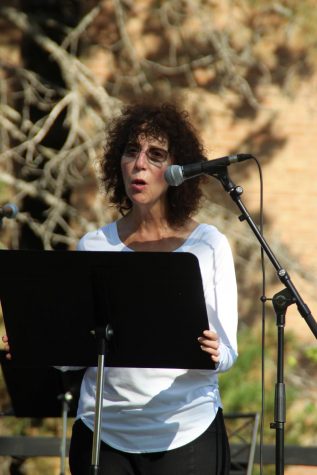 The event began with a short introduction from President Ora Pescovitz. She welcomed the audience, thanked the performers and SMTD for organizing the event and read OU's Land Acknowledgement which was officially adopted last May. Following the concert, she reflected on the significance of the event.
"It was a wonderful concert to celebrate Peace Day," Pescovitz said. "We had the opportunity, of course, to read our [Land Acknowledgement Statement] … What a terrific way to celebrate with two amazing performances that really represented our commitment to our [Native American communities] and to represent Oakland University's commitment to our culture, and to really represent all the things that are important as part of our values."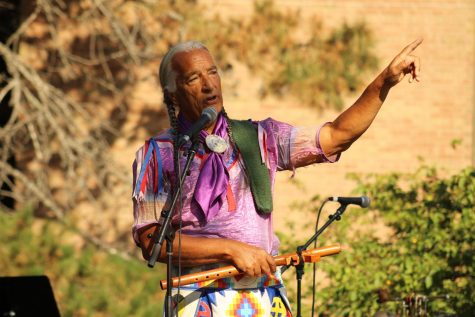 Following Pescovitz's introduction, Locke took the stage donning a colorful pink-purple shirt, a white-yellow-red-blue skirt, mountain goat moccasins and deer hoof stockings. He began his performance by telling the story of the eagle, an Indigenous creation myth. Throughout his hour-long set he incorporated this kind of storytelling combined with music and dance to educate and entertain the audience. 
The music Locke performed consisted of vocals combined with flute playing, with occasional backing track accompaniments of drums or rhythm guitar. After several songs and stories about the Indigenous people of Michigan, his set culminated with a Hoop Dance.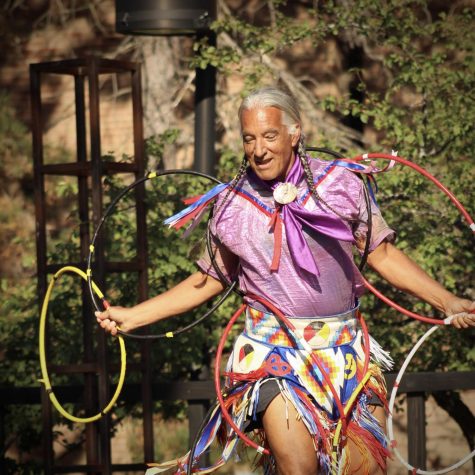 Performed as a prayer, the Hoop Dance told the story of unity among humanity through different colored hoops being combined into different shapes including flowers, a sphere and eagle's wings. After concluding his dance, Locke invited the audience up towards the stage and passed around hoops. He then led the audience in a second Hoop Dance, teaching some basic choreography to the crowd and helping them participate in his prayer.
"The whole idea is to create an awareness of the oneness of humanity," Locke said. "I think it's really important to see. I'm not interested in conveying a tribal or cultural specific message. But to the average North American person, the indigenous culture in North America is the most foreign exotic culture to them. So then it's, it's really a good way to explore this theme of the oneness of humanity."
A short intermission took place following Locke's performance. Spirit Rising's performance then began with a prayer being led by Indigenous elder Jerry Cleland. Cleland stressed the importance of our stewardship over the land and how we must do better for the earth and each other. 
Their musical set began with songs dedicated to healing among humanity and the desire to "deepen decolonization." Much like Locke's set, unity among people was a theme here. The band's instrumentation included three part vocal melodies, acoustic guitar, keyboard, upright acoustic bass and drums. Their sound was contemporary with elements of rock and rhythm and blues throughout the set.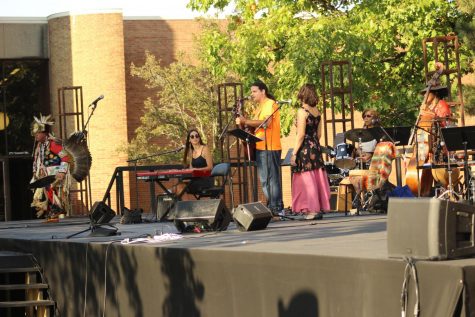 Highlights from the set included Wayne Cleland coming out on stage in full Native regalia — a headdress, bird feathers, moccasins, deer hoof stockings and clothing made of various fabrics and strands of animal pelts — to dance alongside the band's music, an all woman song where the two male members of the band exited the stage so the women could perform a song about women supporting and looking out for each other and Cleland leading the crowd in a dance circle.
The event concluded with all of the musicians taking the stage to perform a new composition created by Spirits Rising and Locke specifically for the concert. Book ended by flute solos from Locke, the track was perfectly in line with the theme of the concert with lyrics like, "make today a day of peace, may our hearts be open wide."