OU, faculty reach agreement, fall semester begins immediately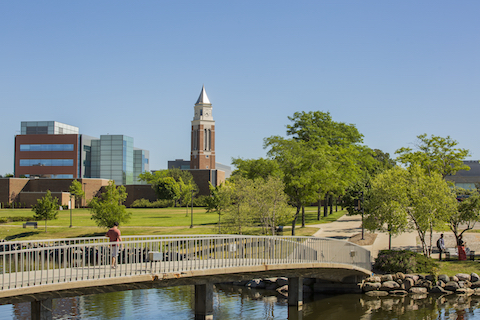 After a long week at the bargaining table, OU's administration and the Oakland University Chapter of the American Association of University Professors (OU AAUP) have reached an agreement. The statement from the OU AAUP bargaining diary update read:
"We are pleased to announce that as of 12:20am on Saturday, September 4th, 2021, the two sides have reached an agreement at the table. Accordingly, the Bargaining Team is calling an end to the work stoppage effective immediately. Saturday classes will be held as scheduled. Faculty are encouraged to reach out to their students as soon as possible."
The university echoed this sentiment in a Campus Communication email entitled "A Joint Message From AAUP and University Negotiators" that was sent out this morning to the campus community.
"While this year got off to a rocky-start, Oakland University and the faculty are anxious to start afresh and focus on our collective mission," the email said. "Towards that end, Oakland University and its faculty, through their union, restate their commitment to offering our students a superior educational experience by focusing our collective energies on engaging in what we value most – serving our students and facilitating their success."
Specific details on the exact nature of the new faculty contract will be coming soon, but for OU students the semester has officially begun. Professors will start reaching out and uploading to Moodle, and everyone will be in classes following the Labor Day weekend.
OU AAUP President Karen Miller released the following statement regarding the new agreement and the support faculty have received from the campus community.
"Last night the two teams were able to come to an agreement across the table. That agreement was explained this morning to the members of the AAUP Executive Committee. A summary of those terms will be sent to bargaining unit members so that we can have informational meetings with the general membership. The tentative agreement will then be voted on by the membership.
I would like to thank the Bargaining Team for their efforts in what was an extraordinarily difficult negotiation cycle; they did a wonderful job. I would like to thank all those who helped to organize our communications efforts; they crafted an incredibly successful campaign to explain the ever changing bargaining situation to both our members and the community around us. I would like to thank those who helped organize our job action; they rallied the community and reminded us of the joy we have for each other and our profession.
I am grateful to have been the president of such an outstanding group of people. I could not be more proud of the faculty at Oakland University."