Miguel Cabrera: The last icon in Detroit sports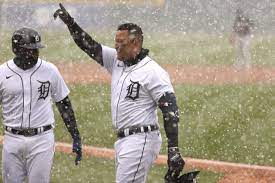 For Detroit sports fans, it's been several long years of game days spent cussing at our TV screens. This current season for the Tigers hasn't been much different. With a 34-44 record, the ball club is struggling near the bottom of the AL Central division, and it isn't hard to see why. 
With a scraggly pitching rotation, a controversial new manager and all the roster inconsistencies of a team in the middle of a "rebuild," the Tigers aren't giving fans much to tune in for. But if there is one must-see aspect of this season, it's watching a 38 year-old Miguel Cabrera chasing career milestones of 500 home runs and 3,000 hits.
Signing with the Tigers in 2008, Cabrera has been the one staple of Detroit baseball for the past 14 seasons. His time here has spanned generations of fans and players. As a Tiger, he has played alongside other big names like Pudge Rodriguez, Curtis Granderson, Justin Verlander, Max Scherzer, Prince Fielder, Ian Kinsler and David Price. 
Following an enormous contract, bicep, groin, knee, ankle and hamstring injuries have led to his declining numbers in recent years. All that money in exchange for diminished on-field production has made Cabrera an easy target for frustrated Tigers fans. 
Winning the Most Valuable Player award back-to-back years in 2012 and 2013, Cabrera was once the offensive powerhouse behind some of the greatest Detroit teams to never win a championship.  Frankly, seeing the man take the field nowadays, it's easy to forget that he and Verlander were the franchise cornerstones driving the team to a World series appearance in 2012 and two ALCS trips in 2011 and 2013.
In 2012 he was the first player in 45 years to win the "MLB Triple Crown" as the league leader in batting average, RBIs and home runs. In all likelihood, Cabrera will be the last major-league hitter to ever earn that distinction.
The point of all this being that Cabrera is undoubtedly an all-time great baseball player. The man breathes rare air in sports history. He has earned his spot on any list of all-time great Tigers players. When he's gone, he'll be gone for good. The Tigers organization and their fans will dearly miss him, even if they're too shortsighted to see it that way right now. 
In the twilight years of his career, during his 19th professional season, Cabrera keeps delivering captivating moments for fans. The blizzard home run he hit on opening day will be on highlight packages for years to come. His May 21 grand slam was easily one of the best moments of the Tigers' season so far.
Cabrera has maintained some of his old magic and that contagious smile as he approaches legendary baseball milestones of 500 home runs and 3,000 hits. Now sitting at 492 home runs and 2,911 hits, it's possible he could reach those goals this season if he stays healthy.
I know I'll be rooting for him in every step of the way, every game and every at bat. Cabrera is the last true sports icon that we have in Detroit. And while I'm excited as hell that the Pistons just won the NBA draft lottery, there's no guarantee we'll be getting another one anytime soon. We might as well unclench our jaws and let Miggy's indelible charisma and flare for the moment carry us through another miserable baseball season.