Uncovering the truth behind Daniel Dodge's death over 80 years ago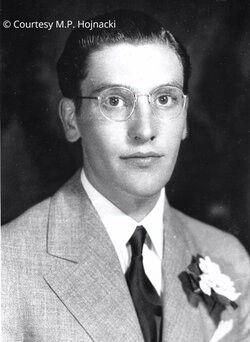 It's been 82 years since the unexpected death of 21-year-old aristocrat Daniel Dodge, but much of the case continues to remain a mystery.
The young man drowned during his Manitoulin Island honeymoon, after an accidental explosion forced the wedding party to attempt to flee to a hospital by boat. He had been married to island-native Annie Laurine MacDonald for 13 days.
Speculation concerning Dodge's passing erupted after situational theories were considered, then disregarded, by authorities. Today, nearly a century later, historians are still trying to piece together facts to determine the truth.
Growing up, Dodge spent much of his life with his family at Meadow Brook Hall, a Tudor-style mansion designed by his mother and Oakland University founder Matilda Dodge Wilson. The matriarch initiated the project after wedding Alfred Wilson, who succeeded her late husband, auto-industry tycoon John Dodge.
The family donated the entire Meadow Brook Estate to Michigan State University in 1957, from which Oakland University became an autonomous entity in 1970. The Hall itself is now a museum devoted to maintaining the history of its previous owners.
Megan White, assistant at Meadow Brook Museum, has taken quite an interest in the story of young Dodge's tragic honeymoon.
"Danny was an adrenaline junkie," she said. "He was throwing old dynamite around at the Manitoulin Island Lodge in Ontario, and one went off too soon. Before he could toss it, it exploded."
The blast severely injured Dodge, his wife and the two friends that were with them, according to White. It was a stormy day, but the party was forced to set out for a hospital by boat.
"There are two accounts that we know of," White said. "One says that Danny passed out, and when he woke up, he fell out of the boat. The second account is that a wave crashed into the boat as he was trying to help Laurine drive, and he was washed overboard."
During the investigation following Dodge's death, however, rumors were circulated that the drowning was the result of foul play. These stemmed from allegations that Dodge's mother disapproved of her son's union to MacDonald.
"Laurine was a telephone operator from Manitoulin Island," White said. "Some different theories are that Matilda believed her to be below the status of her son. Another belief is that Laurine was a different denomination of faith from the Dodge family, which caused issues."
Madelyn Rzadkowolski, Meadow Brook Director of Curatorial Services, discredits these stories as hearsay.
"There's a lot said that Matilda didn't like Laurine, and I think that's just us looking through the lens of history and making assumptions," Rzadkowolski said. "Matilda was a saloon-keeper's daughter, so I don't think she was snooty at all."
There was, however, significant friction between the mother and daughter-in-law after the tragedy.
"After Dan died, Laurine moved back into Meadow Brook Hall," Rzadkowolski said. "She did end up suing for more money than she was entitled to, then moved out of the house that day. That's really what I think upset Matilda. She was pretty devastated by that."
Though answers remain inconclusive, another possibility has arisen concerning Dodge's death. This new angle emerged after Lloyd Bryant, one of the injured boat passengers, was interviewed by Gerald Volgenau, a writer of Michigan history.
The account from Bryant, recorded 63 years after Dodge perished, sheds new light on what had ultimately been concluded an accidental drowning. Volgenau reported that the elderly man seemed reluctant to open up, indicating that "the Dodge family had put some pressure on him to keep quiet."
'"I can't say a bad thing about Danny,"' Bryant said. '"He was always good to me, but the newspapers had it wrong. They said he would have died anyway, but Danny wasn't hurt hardly at all."'
According to his wife, Lillian, it was Bryant who had been the most severely injured by the faulty dynamite blast.
"I think he was scared,"' she said, referring to Dodge. '"He thought Lloyd was going to die. And he just jumped overboard."
Bryant, according to Volgenau, simply nodded and wept.