Dwayne Johnson cooks up good TV on 'Young Rock'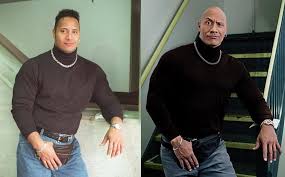 Bringing more viewers to the NBC wrestling match  than any other comedy since 2017, Dwayne 'The Rock' Johnson's newest television series, "Young Rock," is a loose-biographical account of the acclaimed actor's younger years.
The show takes place during the 2032 presidential campaign in which 'The Rock' is a candidate, with frequent flashbacks to three formative parts of his life: growing up in Hawaii surrounded by pro-wrestlers, attending high school as a 6′ 4″ fifteen-year-old (mistaken for an undercover cop) and playing college football as a defensive lineman for the Miami Hurricanes.
With a hefty 224 million followers on Instagram, 'The Rock' posts stories of his past that are brought to life in this series. Viewers are transported into his world with photographs of family gatherings, wrestling matches of 'The Rock's' dad, "Soul Man" Rocky Johnson, André the Giant and other professional wrestling icons. Also yes, there is THAT infamous picture of "The Rock" wearing a turtleneck and fanny pack.
As someone who knows nothing about wrestling, I thought that "Young Rock" was a great introduction to the world. When old video footage of their real-life counterparts is featured in an episode, viewers see just how uncanny the cast's likenesses are. 
Seeing a comedy where every member of the main cast is a person of color is notable. There are authentic representations of Black and Pacific Islander experiences on a main television network, like NBC. 
The show focuses on 'The Rock's' interracial family of Black and Samoan descent and discusses the racial barriers his dad broke down in professional wrestling and the struggles that came with them. Viewers are also introduced to his grandmother, the first female wrestling promoter and her trailblazing career. Family is everything to 'The Rock,' and this show made that very clear. 
This is definitely a television show geared toward a multi-generational viewing experience, so it plays out like a typical sitcom: heart-warming, full of life lessons, and humorous. While all the different plot lines of 'The Rock's' past may be a bit hard to follow, they are what make the show. The snippets of 'The Rock's' future presidential run are a bit awkward and sometimes cringe-worthy. After the past four years, and more specifically, the dumpster fire that was 2020, awkward and cringe-worthy, are an upgrade.
The highest-paid male actor who is one of the most recognizable figures in the world takes viewers back to when he was just a regular kid with an unusual upbringing, trying to figure out life while, and as he puts it, "working the gimmick" with his family. Viewers get a glimpse into the highs and lows of 'The Rock's' life that have shaped him into the man he is today.
"Young Rock" emphasizes that what makes Dwayne "The Rock" Johnson an aspirational figure and so relatable are his humble upbringing, his incredible work ethic, and his "rock hard" abs.
Young Rock airs Tuesdays at 8 p.m on NBC.
Rating: 3/5 stars