CAS dean candiate Moeller takes part in forum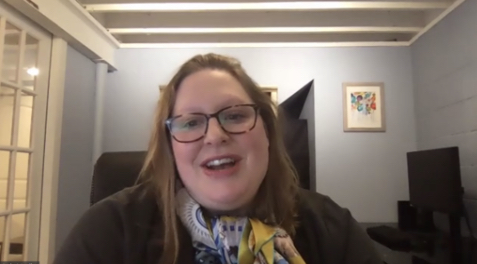 As part of its search for a new dean, the Oakland University College of Arts and Sciences (CAS) hosted an open forum with candidate Marie E. Moeller on Friday, Jan. 29.
Hosted by Joseph Shiverly, CAS associate dean, the 2 p.m. Zoom-based forum was intended for students to voice their concerns and ask questions to Moeller. While no students offered Moeller questions, Shiverly provided her with questions throughout the forum.
Moeller is currently an associate professor at the University of Wisconsin-La Crosse with specialties in professional and technical writing, medical and scientific rhetorics and writing, feminist rhetorics, disability studies and grant writing, according to her UW profile. 
When asked about what students could expect from her in regards to communication between them and her dean's office, Moeller cited her use of advisory councils from Wisconsin.
"Right now I am working with a couple of advisory councils of students," Moeller said. "We meet once a month and have lunch together. I hear what their concerns are, what they are excited about, what they like about the college, what they do not like about the college and things we might change."
Shiverly mentioned that a number of OU students work full time alongside their studies, and wondered what Moeller's CAS dean's office could do to support working students.
"As a dean, one of my roles is to fundraise, and I think scholarships [are a solution] in particular for students who have that reality of having to work full time," Moeller said. "If there is a way I can do more fundraising to create more scholarship opportunities so people do not have to have that kind of balance, that is something I would be keyed into."
On the question of what she would do with OU's diversity, equity and inclusion (DEI) efforts, Moeller said that DEI had to be "infused throughout the college."
"It has to be represented in our curriculum," she said. "It has to be represented in our co-curricular activities, so speakers that we bring to campus [and] activities that we do on campus. We should have some kind of commitment as a college."
Moeller closed out the session with her views on what a liberal arts education means to students regarding their employment opportunities.
"Our education is more skills focused than it is technical focused," Moeller said. "The door that an arts and sciences degree opens is just about any door you would want."
Moeller's forum was her last forum this week, and the next candidate to have a forum will be Elaine K. Carey of Purdue University Northwest. Carey will have an open forum on Tuesday, Feb. 2 at 2 p.m. and a CAS students forum on Wednesday, Feb. 3 at 11 a.m. 
The search for a new CAS dean began in 2019 when Kevin Corcoran announced his retirement from the position, but his retirement was postponed last May due to COVID-19 complicating the process. The search has produced five candidates: Moeller, Carey, Kelly A. Ritter, John Masserini and Shannon B. Campbell.
Information about the search can be found on the Office of the Provost's webpage.