Oakland professor leads groundbreaking genetic research in Ukraine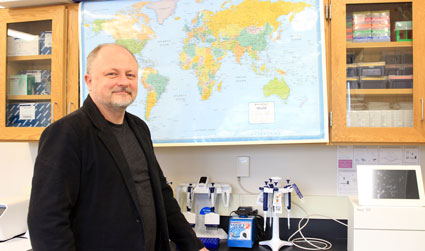 When it comes to genetic diversity, Ukraine is an understudied region, so researchers at Oakland University decided to start a study. The largest study conducted in Ukraine to date, this process was able to help chart the map of global genetic diversity.
"It helps broaden Oakland University's research enterprise," Vice President for Research David Stone said. "It helps with engaging students with Ukraine, which is great."
The study focused on comparing the genomes and genetic variations in different parts of the world. This will allow more of an understanding of why there are differences and what are the differences in their bodies.
"[Questions like:] How does it grow, what diseases can they get, how do they function and what makes them more susceptible and less susceptible to diseases," Taras Oleksyk, assistant professor of biological sciences at Oakland University said. "That is very important information because understanding the genetic global diversity allows you to understand more deeply the meaning of our genetic information."
Oleksyk has studied genetic diversity within people all around the world for ten years. He started with the 1,000 Genome project in the carribean region in Puerto Rico. 
He felt a personal connection to the genetic study in Ukraine because of his Ukranian ancestry, and he wanted to add them to the map of genetic diversity.
To do the study, Oleksyk had to find people who were willing to donate their information and blood from all over Ukraine. Then they would extract the DNA from these samples. Then, all DNA gets tested and compared to one another.
"We're all humans, so 99.9% of our genetic code is the same," Oleksyk said. "But, there are certain small differences that are important."
By finding genetic diversities, it can help show who could be at higher risk of getting cancer or who has protective genetics that can prevent it. Oleksyk talked about how this could easily be applied to COVID-19. The slightly different genetic codes can show who is more likely to get COVID-19 and who isn't.
"The information that gets out of these studies are used to discover the variation that is important for evaluating how different variance of genes respond to disease," Oleksyk said. "The more we know about what kind of variations exist in the world, the better we can understand how to address these problems."
Oleksyk and his team are currently in the process of trying to develop a study about the correlation of genetic diversity to human diseases in Central Europe. Oleksyk hopes to receive an industry grant alongside their grant from the European Union. 
There was a collaboration between OU, the University of Michigan, Uzhhorod National University in Ukraine, National Cancer Institute in the USA and BGI Shenzhen in China for this study. Six of the co-authors were from OU.
"It is valuable to our students to see our faculty engaged in high level international research that gets published in prestigious journals and becomes available to the scientific community," Stone said. 
For the full data, interested readers can go to the published study.