Alex Underwood utilizes love of sports in new position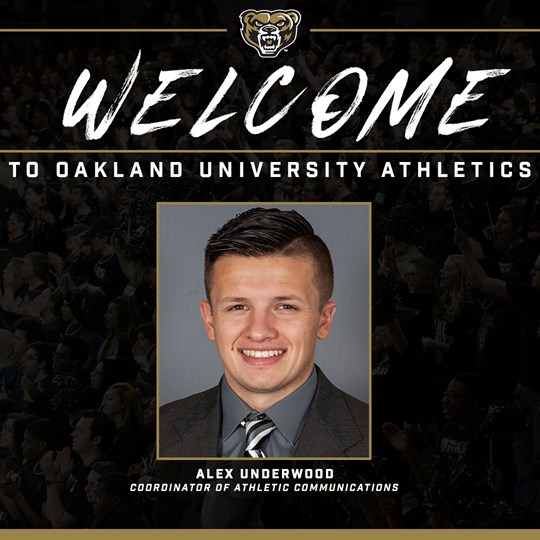 Alex Underwood has been a sports fan his entire life. Ask anyone who knows him, and they'll say sports are his biggest obsession.
"I'm a big Cleveland sports fan," Underwood said. "I grew up in Northeast Ohio — this Browns' season was one for the ages, especially for me. People who know me, they pretty much know that I'm obsessed with sports."
Underwood was recently hired by Oakland University Athletics as the coordinator of athletic communications. Senior Assistant Athletic Director for Communications, Maria Rivera, said in a press release she was "very excited" to welcome Underwood to the OU Athletics family.
"During the interview process, I knew Alex would be a great fit to our team," Rivera said. "He will be instrumental in our continued efforts in pushing innovation on the department's digital platforms and providing outstanding sport coverage to the department and the student-athletes."
According to the press release, Underwood spent the last two years as a graduate assistant in the athletic communications department at Southern Illinois University (SIU), assisting with coverage for all 15 Division I programs at SIU. He said he gained many skills at SIU that will help him be successful in his new position.
"It was a great opportunity to learn the ins-and-outs of pretty much everything from graphic design, to videography, photography and website management," Underwood said. "That's where you learn every single aspect of sports information that prepares you for the next level."
While he was at SIU, Underwood served as the primary contact for men's and women's swimming and diving and men's golf, while also providing secondary support for baseball, football and softball.
Additionally, he helped build content and social media campaigns for all social platforms and was responsible for creating and posting content to the Southern Illinois University Athletics site, including press releases, game previews and recaps, game notes, videos, photo galleries and statistics.
"The thing about schools like Oakland and Southern Illinois is that even though they're a mid major, they treat [the job] like they're a power five school," Underwood said. "They treat it just like how Michigan would, or Michigan State or Ohio State. So even though you don't have as many resources at times, or as much of a budget with things, you still try and achieve the same level that a power five [school] would."
Underwood said while his favorite sport to play was football, his favorite sport to follow is baseball.
"[I loved] the competitive aspect of [football]," Underwood said. "My uncle was the head baseball coach at Mount Union, which is where I went to college as well. So, I was constantly going to his games and helping out on pro games or anything like that so it was always important when I was growing up. I interned with a few baseball teams which I really enjoyed. I know some people think baseball is boring, but I could watch it every day of the year."
Prior to his time at SIU, Underwood earned a bachelor's degree in sport business from the University of Mount Union in 2018, where he also spent three years as a sports information assistant. In May 2020, Underwood graduated with a master's degree in sports studies from SIU.