OU Students win at Kennedy Center Theater Festival
The Oakland University School of Music, Theater and Dance fielded a team for the 2021 Kennedy Center Region Three American College Theater Festival (ACTF), with students winning and placing as finalists in multiple categories. 
Two students, Colin Franz and Sophia Cannella won the competitions they competed in. Franz won the Allied Design and Technology Award for his draping project, while Cannella won the Student Dramaturgy Award for her work on the SMTD's February 2020 production of "Macbeth."
"It is really crazy," Franz said about winning. "I was really proud of the work I put into [the project] and what came out of it. I thought I would get something small; I did not expect to receive the award that I did. I am really proud of my work and thankful of the education that I received to help get me there."
Franz created a half-scale draping model of an 1870s American mourning gown. Draping is the practice of creating a costume by draping muslin fabric onto a mannequin-like model. Franz's project took about 60 hours of labor starting on Nov. 11 and finishing in the last week of December. 
Held from Jan. 6-9, 2021, the ACTF is a festival that hosts several competitions for theater students from around the country. The Region Three festival covers universities from Michigan, Illinois, Indiana, Wisconsin, and western Ohio. Festivals are usually held in person, like the 2019 festival which took place in Madison, Wisconsin, but COVID-19 forced the 2021 festival to go online.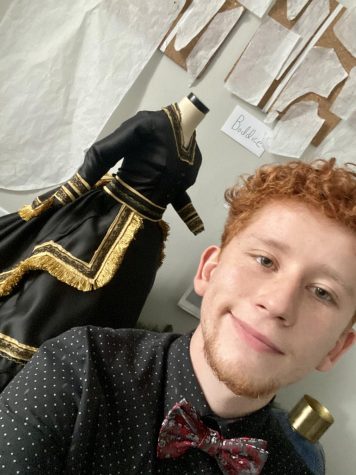 Between the online festival and social distancing requirements, Franz and the rest of the costume shop students had to work on their projects in difficult conditions 
"We were working all the way up until … when we got shut down," Christa Koerner, SMTD costume shop supervisor said. "We socially distanced in the shop for most of the semester. We figured out I could have three students in the shop plus myself, that way they could each have a cutting table to themself."
When in-person classes were suspended in November, shop students worked on their projects at home and updated Koerner through video calls and photos.
Acting students also had to work through Zoom, though it was an easier switch than the shop had.
"The coaching of our students mimics a lot of what we have been doing in our classroom work," David Gram, associate professor of directing and acting said.
Students did a mix of sending in recorded performances and live performances through Zoom, which Gram used to coach their acting.
For winning the Allied Design and Technology Award, Franz will be spending a week at the Santa Fe Opera in New Mexico as an intern. Cannella has been selected to direct a 10-minute original play written by a student playwright from Region Three.
"Jeremy Barnett, one of the professors, says that the Santa Fe Opera House is one of the most coveted summer internships and that grad students fight to even get an internship," Franz said. "The fact that I get the opportunity to work with them is immensely amazing and I know will help with my career as a theater designer for sure."
For students looking to get ahead in their fields, Franz offers some words of advice.
"Make sure to put yourself out there," he said. "Even if you feel like it might not be worth it or you might not be good enough, because no matter what you will be good enough for something or someone. You will be surprised with what you have and what you bring to the table."