SMTD hosts virtual New Music Night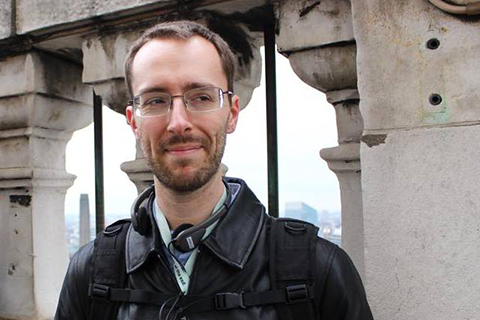 Rachel Yim, Science & Technology Reporter
October 7, 2020
School of Music, Theatre and Dance (SMTD) at Oakland University is hosting the New Music Night, now in its fourth year, virtually on Wednesday, Oct. 7.
Initiated by Ben Fuhrman, a composer and special lecturer in Music Technology and Composition at OU, the New Music Night is a concert series that brings together faculty composers from different institutions in Michigan to present their work. This year, there will be two additional performers besides Fuhrman: Joo Won Park (Wayne State University) and Edward Stumpp (Wayne State University and Alma College).
According to Fuhrman, the main focus of this event is generally experimental work that pushes boundaries, exploring the nature of music, sound and how listeners and performers experience music and sound.
As a composer, Fuhrman is passionate about writing and performing music. He describes being a composer as exploring sound and organizing it in time. He not only writes notes on staff paper for others to perform, but he also closely studies the musical traits of non-musical sounds and the interaction between performers and computers.
"A lot of what I compose involves using computers to create or process sounds in reaction to some type of input (either from a live performer, a predetermined time setting, pitch, volume, etc.) and then output the result live," Fuhrman said.
This year's concert being held virtually due to COVID-19, marks a significant difference in approach for performers like Fuhrman. Fuhrman explained the biggest challenge he expects to face is the lack of feedback and not being able to observe the expressions of the audience during the performance.
"It's very similar to recording in the studio: you have to alter your performance for how you think the audience will react, but without seeing their expressions," he said. "As a result, I tend to play a little more conservatively than normal and focus more on the piece and less on interpretation."
Despite the major differences or challenges the performers may face during the performance, Fuhrman didn't lose his optimism about the concert. Out of all his music pieces he will be performing on Wednesday night, Fuhrman looks forward to the final piece the most. According to him, the final piece is a live improvisation between all of the performers.
"During the tech set up, we decided on some basic parameters, and built off of each other's ideas and elaborations to create new directions to explore as we play," he said. "It's both exhilarating and terrifying because anything can happen or go wrong at any time."
Fuhrman added that the music technology program at OU is a newly created degree – first created in 2019 – and he hopes to see his students achieve their goals and grow the music technology program at OU. As a composer, he hopes to dive deeper into machine learning and its applications in composition when time allows.
The concert starts at 7:30 p.m., and will present a variety of pieces. Join the live streamed concert at SMTD's official website.