Flu vaccines available on campus
Rachel Yim, Science & Technology Reporter
September 30, 2020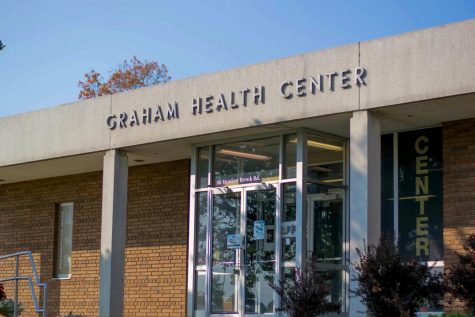 Getting the flu vaccination has always been one of the most crucial actions in preventing the spread of the flu virus. Amid the COVID-19 pandemic, it is more important now than ever.
To help limit further spread of the flu with an ongoing pandemic, the Graham Health Center (GHC) at Oakland University is providing flu vaccines to the OU community. While GHC has run this event for over 20 years, this year is different compared to past years because COVID-19 has brought numerous challenges.
As a contagious respiratory illness, the flu is proven to have similar symptoms to those of COVID-19. Common symptoms for both include fever, cough and shortness of breath. Similar to COVID-19, serious outcomes of flu infection can result in hospitalization or death. So, it is important to prevent compounding of these viral infections.
"We are particularly concerned about [keeping this] double whammy, which could put our community at a high risk, from happening," Ora Pescovitz, the president of Oakland University, said. "Also, because both conditions can be mitigated by actions we take, the flu shot really does protect tremendously against the flu."
Though flu viruses are detected in the U.S. year-round, they are most active during fall and winter. Starting from as early as October, the flu season can last as late as March. Studies have found that the flu virus prefers dry and less humid weather conditions, making winter a perfect environment for it to spread. The Centers for Disease Control (CDC) recommends almost everyone ages six months of age and older to get a flu vaccine by the end of October, which is when the spread of the flu starts to increase substantially.
According to Nancy Jansen, director of the GHC, she has been closely working with Environmental Health and Safety Director Cora Hanson, OU Emergency Manager Mike Crum, members of the Infection Prevention Control Committee and the OU administration to ensure that OU follows Gov. Gretchen Whitmer's executive order and guidelines from the CDC.
"These directives have been fast moving and the situation continues to evolve over time as we learn about the infection and the best practices to reduce transmission," Jansen said.
A group effort has been OU's key to success, as it's not only the members of the GHC, but also other faculty, staff, administrators and student ambassadors who are working closely together for the safety of the community.
"One of the reasons why Oakland has had such a good result is because of how hard everybody is working," Pescovitz said.
According to Jansen, getting flu vaccination will not only protect individuals from the flu, but it'll also help reduce the demands on the healthcare system that is coping with COVID-19 cases. This is significant because the flu contributes to tens of thousands of inpatient stays and emergency department visits in the United States each year. Jansen urges students to be thoughtful and cautious this flu season.
"Just imagine that everyone you encounter everyday has COVID," Jansen said. "Then, staying six feet away and wearing a mask (along with hand washing) at all times will make perfect sense. Seriously, no one wants to be the person that gets COVID and spreads it to their grandparent or someone else they love."
To sign up for the flu vaccination or to learn more information, visit the Graham Health Center website or refer to its schedule.