Satisfaction not guaranteed by "Love, Guaranteed"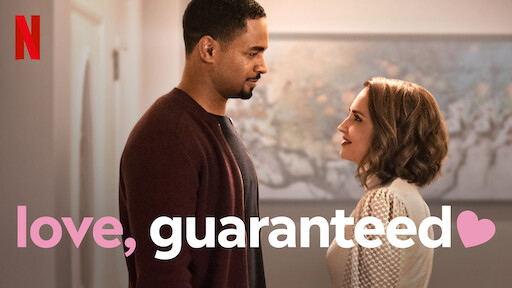 The newest Netflix original rom-com, "Love, Guaranteed" was released on Sept. 3, and it just turned out to be another disappointment of the year. Initially, the movie looked like an uplifting love story with Hallmark movie vibes, but really it was just another stale plot line.
While a cheesy movie is not always a bad thing, this one seems to almost be too cheesy — there's the typical love story ending that everyone could see coming.
Susan Whitaker (Rachel Leigh Cook) is a pro bono lawyer at a small law firm that is going downhill. Just as she's hitting rock bottom, Nick Evans (Damon Wayans Jr.) comes in with a "winnable case." Nick wants to sue a dating website, "Love, Guaranteed " for false advertising, aftering attending a thousand dates and still ending up without love. 
Nick offers Susan a lot of money to take on the case, and with her current situation, she couldn't refuse. Susan had to take on the case against the owner of "Love, Guaranteed",billionaire Tamara Taylor (played by Heather Graham), a high powered individual.
For the case's research, Susan ends up joining "Love, Guaranteed," since shes never tried online dating. She goes on her fair share of bad dates, but who hasn't? She has the one that doesn't show up, the typical one that doesn't look like their profile picture and a couple more toxic dates.
To know if they won the case or not, you'd have to see the movie, but to be honest, it's not even worth your time to find out. 
Throughout the movie, there seems to be no dramatic emotional build up between the characters. It felt like the plot line was going nowhere the whole movie.
The main character had a very bland personality, and it's hard, for me as a viewer, to believe that Nick couldn't find a more interesting girl after a thousand dates. Susan had no spark within her, and she seemed like a drag throughout the film.
A couple of the dates Nick went on testified in court for him, claiming how much of a gentleman he was and how he was a great conversationalist. Even though all these women  had so many great opinions on Nick, he never could get a second date — interesting. 
"Love, Guaranteed" is so predictable: it's the typical man meets woman, and they fall in love. But with this movie, it was so boring to watch. The chemistry between Nick and Susan seemed extremely forced, and the dialogue between them was unbearable.
Some jokes throughout the film were way over used, like Susan's car door handle falling off, and it wasn't funny a single time. For the movie being a rom-com, I couldn't really find any funny parts.
I don't recommend this movie. There are so many more rom-coms that are worth your time and will actually leave with you a feel-good feeling. "Love, Guaranteed" left me feeling nothing at the end. 
I mean, even "The Kissing Booth" had a plot at least.
Rating: 1.5/5 stars