'The Kissing Booth 2': Classic love triangles succeed in getting teen girls swooning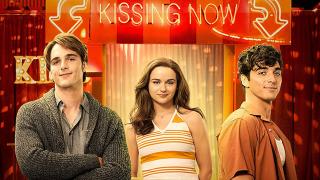 "The Kissing Booth 2" hit Netflix on July 24, encapsulating all the teen romance vibes. Weirdly enough, "The Kissing Booth" sequel felt more captivating than its predecessor. 
Joey King, Jacob Elordi and Joel Courtney are back in their roles of Elle Evans, Noah Flynn and Lee Flynn respectively. Lifelong best friends, Elle and Lee, are now high school seniors and grapple with college decisions. They have always planned to attend University of California, Berkeley together, but Harvard now appeals to Elle because her boyfriend Noah, Lee's brother, is in his first year there. 
Later, Elle sees a flyer for a dance dance mania competition. She wants to enter with Lee, but after he injures himself, Elle reluctantly enlists the help of hot new student Marco (Taylor Zakhar Perez) to win a hefty cash reward that could help her father pay for Harvard.
The infamous kissing booth also returns for the annual homecoming fundraiser, leaving Elle and Lee to recruit high school hot commodities as kissers. 
Meanwhile, Elle is genuinely considering applying to Harvard to be with Noah and avoiding discussing it with Lee. She visits Noah at school, where she meets his college friends, one being the intimidatingly gorgeous Chloe (Maisie Richardson Sellers) whom Elle suspects Noah of cheating on her with when she finds one of Chloe's earrings in his dorm room.  
As Elle and Marco perfect their dance skills in preparation for the competition and Elle is losing trust in Noah, they grow closer. The plot unravels and secrets come out as Noah surprises Elle by showing up to the competition she participates in with Marco. Elle realizes she needs to talk with Lee as well, as their friendship has secrets and Lee has been experiencing problems in his own relationship with his girlfriend, Rachel (Meganne Young). 
"The Kissing Booth 2" definitely succeeds in reeling in its target demographic. It's fun and flirty, and the characters are (mostly) likable. What's more is Noah doesn't have as many random, problematic aggressive scenes as he did in the first film (like beating up his brother in the driveway) except for a few fist clenches near the end. 
Of course "The Kissing Booth 2" is cheesy at times but ultimately it does its job — get all the teenage girls swooning. I probably would have loved this movie five years ago when I thought I'd casually run into the Marcos of the world and effortlessly convince them to fall in love with me. Mentally, socially and emotionally, I've completely left the high school fantasy world, which made this movie more painful. Seeing your crush around every corner and having them in every class just does not happen, and I know that now more than I did at fifteen. 
Although it's unrealistic on every level (no school allows a kissing booth, and even if they did, absolutely nobody would participate.), I still sought this movie out and sat through it. Joey King plays a great relatable, quirky teen who's just trying to figure life out, and Molly Ringwald makes an excellent debut as a mom character — just kidding, she plays the mom of every redhead in Hollywood. 
Rating: 3.25/5 stars