'Modern Family' has one last goodbye hug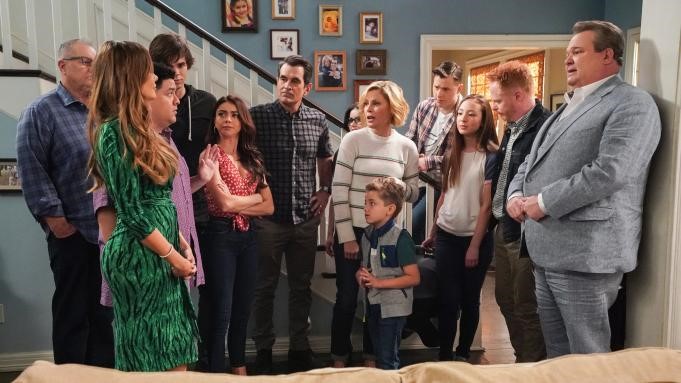 Eleven seasons came to a swift end with a finale dedicated to goodbyes and new beginnings. ABC's Emmy-winning "Modern Family" ranked as the station's longest running comedy series, enveloping over a decade of devotion from their audience.
The two-part finale refreshingly stirred up a few laughs before easing into tying up loose ends. Claire and Phil (Julie Bowen and Ty Burrell) are discovered trying to steal a moment of alone time in their RV-turned-lawn ornament amidst all their children moving back home. Phil's sizzling bacon blows their cover, and the family is forced to come to terms with the overflowing Dunphy household.
Each of their adult children were last left in a wavering transitory period in the last episode.
Haley (Sarah Hyland) has muddled her family of four into a couple upstairs bedrooms, packed to the brim with her fussy twins and Dylan's (Reid Ewing) thoughtful confusion. The middle child, Alex (Ariel Winter), has just turned her career upside down overnight by switching from a flashy company to an ethical research with studly Dr. Arvin Fennerman (Chris Geere). Rounding out the bunch, Luke (Nolan Gould) is still going in circles without a direction in sight, aside from spurts of jokes and heartfelt moments with his sisters.
The finale extends its focus onto the start of new stories with the need for heartwarming goodbyes from the Pritchetts and Pritchett-Tuckers, too. Meddling Claire and Phil's cramped household into the perfect backdrop for each family member's new story — a lot to combine into one hour. The first 30 minutes wrangle everyone's directions, and the next muddle through painting the perfect goodbye group hug — there were seven hugs.
In the last special moment, Phil attempts to make a clean break from the family hug, but rallies back around within seconds — an excellent moment which swept the audience into their family hug too. After 11 years of following the "Modern Family" dialogue, it has surely transformed their audience into a second family.
"I'm going to be the first one to let go … It was awful," Phil says.
Ty Burrell was a thoughtful choice to dictate their family goodbye — his role as Phil Dunphy was his breakthrough character. Although he had little other experience, Burrell fit into the quirky dad role seamlessly, as the actor is a father of two. Burrell even devoted some of his cues in fatherhood to "TV dads."
"I think once I fail enough as a dad, I'll be looking for help wherever I can get it," Ty Burrell said, according to IMDb. "I just need enough time to screw things up and then I'll start looking to TV dads for advice."
Burrell's role suited him well, and his shoe-in connection with Phil Dunphy is just the tip of the iceberg. The entire comedy is composed of relatable and heartfelt scenes to reach out to the real modern families watching.
After a decade of laughs and bonding with "Modern Family," fending off expectations of the finale is nearly impossible, though. The finale left no stone unturned while wrapping up the characters' stories, but the execution may give some audience members a bumpy road. In their attempt to address every character and open question, the flow from scene to scene appeared haphazard. "Modern Family" may have had a more compelling finale without such a thorough wrap-up.
Someone who has watched every precursor episode must complete the series after years of entertainment. The "Modern Family" finale may be a small swerve away from the rest of the series, but should not deter any new watchers. For anyone looking for a new TV binge challenge, the show — in its entirety — can give viewers comedic relatability to their own loud, fumbling and heartwarming families.