OUWB improves classroom inclusiveness with new guidelines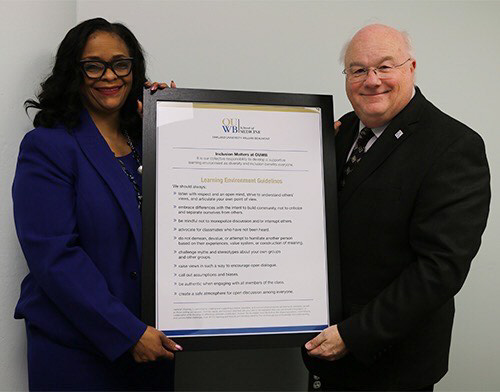 Classrooms and breakout rooms in O'Dowd Hall have a new poster hanging on the walls — the Oakland University William Beaumont School of Medicine's (OUWB) new Learning Environment Guidelines.
Developed by OUWB's Diversity, Equity and Inclusion Council (DEIC), the Learning Environment Guidelines are a list of 10 rules that outline how to create an inclusive classroom environment and can be found in all OUWB classrooms, including classrooms at Beaumont Hospital campuses. 
The guidelines focus on respecting other students by not interrupting people when speaking, advocating for lesser-heard students, being aware of biases and overall creating an atmosphere supportive of open discussion.
"We needed a way to show that the learning environment was everyone's responsibility," said Caryn Reed-Hendon, OUWB diversity and inclusion director.
According to Deirdre Pitts, OUWB interim associate dean for academic, faculty affairs and diversity and inclusion and assistant professor in the department of foundational medical studies, the idea for the guidelines came from a set of focus groups held about a year ago.
"One of the themes from those focus groups was concerns with a sense of belonging, and specifically as it relates to comfort in the classroom," Pitts said. 
Around the same time as the focus groups, various councils regarding underrepresented groups within OUWB were being consolidated into a single DEIC. 
"[The DEIC] was primarily a vehicle for faculty and staff," Reed-Hendon said. "What we started to see was not only were students' voices not really being heard, but my counterparts in student affairs created a second committee that was focused on other issues that sometimes saw themselves showing up for different communities in the medical school."
According to Reed-Hendon, many of the groups were doing similar things, but each focused on a particular community. With the support of Pitts and other groups within OUWB, the councils were consolidated into the DEIC.
The concerns found from the focus group were brought to the new DEIC, who then determined that a list of recommendations to address the concerns were to be drafted and brought to OUWB Interim Dean Duane Mezwa. One of those recommendations was the creation of the learning environment guidelines.
Along with posting the new guidelines, OUWB faculty are being trained to facilitate a "stepping in" curriculum to further classroom inclusiveness by checking unconscious biases.
"All of us are aware that we have unconscious biases," Pitts said. "But how do we address those situations as they pop up?"
Focusing on how to address situations where someone in a class might unconsciously say something harmful or offensive or a microaggression of some kind occurs, the "stepping in" curriculum teaches the faculty how to speak up and defuse such incidents as they occur. 
Since the guidelines were posted, Pitts has already begun receiving student feedback.
"People will come up and will say to me, 'Dr. Pitts, I saw that the learning guidelines are posted. That is cool. Thank you,'" Pitts said. "Students are noticing that they [the guidelines] are there and hoping they will make a difference in the community.