Ke'Sha Blanton takes over head coaching duties in first season
Ten years ago, Oakland University women's basketball head coach Jeff Tungate underwent back surgery. That back surgery was botched, and for nearly a decade, Tungate has dealt with the aftermath. Earlier this season, he went on indefinite leave, putting associate head coach Ke'Sha Blanton in charge of the program.
Blanton was added to the staff in May 2019 after spending two years as an assistant coach at the University of Miami, Ohio. Prior to that, she was an opponent of the Golden Grizzlies, working for the University of Detroit Mercy Titans as an assistant coach.
How she came to know Tungate is unique. The two established a professional relationship through Chick-Fil-A trips in the summers.
"I thought it was the perfect time to come and work with Coach Tungate because we had talked about it for so long," Blanton said. "We met and started going to Chick-Fil-A on the road when we were out recruiting. We would just sit and talk basketball and have lunch. Every July, we would find each other on the road recruiting and go have Chick-Fil-A."
Blanton has been a coach since she started as a freshman at Toledo, where she started coaching her former high school team. After breaking both feet in her senior year of high school, she accepted a walk-on spot at Toledo before herniating two disks in her back, ending her playing career.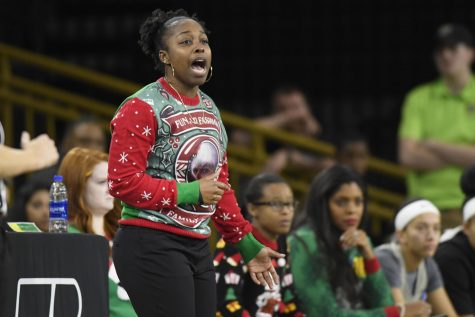 After being introduced to coaching, Blanton began coaching at every level. She coached Amateur Athletic Union (AAU), middle school and high school before coaching college for the first time at Florida State University as a graduate assistant.
"I fell in love with coaching, it became my passion even more so than playing," she said. "It's definitely a different route, but it's been great for me. Having my career end earlier made me study the game more … When I got to the Division I level, I felt like I was a student of the game more than just a player trying to figure it out."
Blanton has coached former players of the year, WNBA players and defensive standouts during her time as a Division I assistant coach. At Oakland, her goal is to help establish the vision that she and Tungate both share.
"We want to get back to when Oakland was known for being a hard scout," she said. "It was very hard to prepare for Oakland, and I think we're getting back to that."
The team prepared for being faster and stronger this summer after the new staff was hired. Tungate brought in an almost entirely new staff to improve the team's future after going 3-15 in conference play in 2018-19.
A new culture was instilled through conditioning and practice.
"We went tough this summer," Blanton said. "We got out on the track, on the hill, and we pushed them to go past anything they've ever done. Everything we started to do was timing to get them to understand that we wanted to play quick."
After coaching for almost 10 years, Blanton has found her preferred style of coaching to be intense and tough.
"I'm up-tempo, I'm tough on our players," she said. "I like to run, I like to press, I like to get up and down — and we want to make it exciting for the fans."
The up-tempo style of play has led to more scoring than in previous seasons. The women's basketball team scored a season-high 93 points against the Green Bay Phoenix on Thursday, Jan. 9.
Five games into the season, the 2020 team matched the previous season's win total in Horizon League play. After going 4-6 in the first 10 games, the team is looking to compete in Indianapolis for the Horizon League tournament championship.
"A lot of the lumps we've taken early on are growing pains, and we're starting to find our leadership," Blanton said. "We've been in games, but now I expect us to start winning games. As we prepare, we're trying to get to Indianapolis."
The 2019-2020 team is young, there no seniors on the roster. Six of the 14 players are juniors with three freshmen and five sophomores. The majority of the roster will be Golden Grizzlies for two or more years.
"Part of having a young team is they don't know how to lead themselves," Blanton said. "We're teaching them how to lead themselves. At the end of the day we have to go out and play and perform, so we're trying to go out and give them all the tools so that they're confident when they go out on that floor."
With eight games remaining in the regular season, Blanton is seeing results.
"I'm starting to see that confidence," she said.