Celebrating Kobe and Gigi Bryant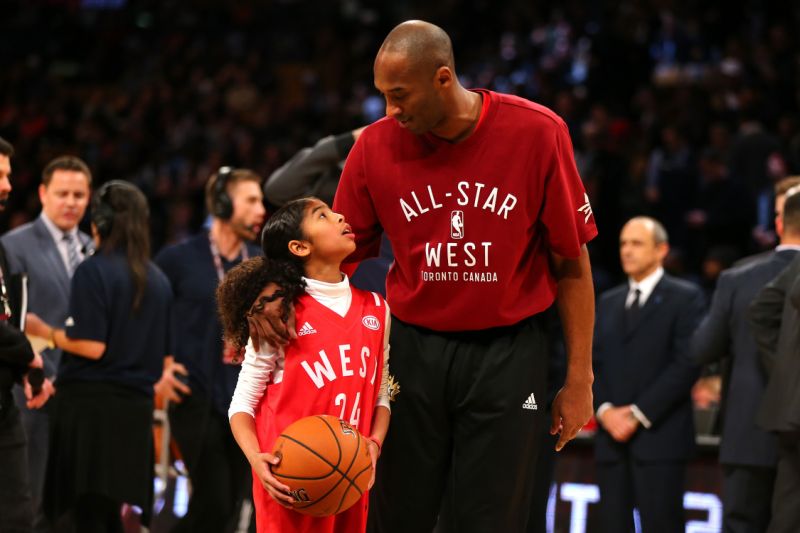 The sports world was rocked on Sunday, Jan. 26 with the news of basketball superstar Kobe Bryant and eight other people dying in a helicopter crash in Calabasas, California. On the helicopter was Bryant's daughter, Gianna (Gigi) Marie-Onore, as well as another parent and player on Gigi's youth team, which Kobe coached. No one survived the crash.
Kobe was more than a five-time champion and 18-time all star. He was a basketball pioneer and a fantastic man. In a day and age where many take to social media to mock women's basketball and the WNBA, Kobe was a supporter of all things women's basketball. He also mentored up-and-coming NBA stars as well, working with players like Donovan Mitchell and Jayson Tatum.
The supportive attitude Kobe showed to women's basketball and any young athlete is a testament to how much he cared about people and the game of basketball. This showed in how many people loved Kobe and his legacy.
I'm a Celtics fan — I watched my new favorite team in 2010 lose to Kobe in game seven and I never forgave him for that as a player. But I respected him, and I will always respect him as a player and as a man. Kobe Bryant stands for everything that I want to be as a professional.
Well-spoken, kind, articulate, intelligent and respectful are the words that make me think of Kobe as a man. Every interview I see with him reminds me of what kind of a person we lost on Sunday, what kind of a role model and inspiration we lost in that helicopter crash. It's sickening to think the team he coached has lost their coach, mentor and teammate.
That teammate, Gigi, was an up-and-coming force in the game of basketball as well. Kobe said on "Jimmy Kimmel Live!" that when people came up to him and said he "needed a boy" to carry on his legacy, Gigi would interrupt and say, "Oh no, I've got this." She was on track to be one of the next greats in the women's game, and everyone needs to keep the Bryant family in their thoughts during this difficult time. As much as the basketball world is hurting, Kobe's wife Vanessa and their other children are hurting even deeper.
Not all legends in the sports world live to be 85 like Bill Russell. Not all legends in any industry live to be 75+ and die of old age. Sometimes, we must lose our legends at a young age. That is the cruelty of life, that not everyone gets to live until they're ready to go. As cruel as the world is — as deep as it hurts and stings to lose someone like Kobe — we must celebrate his life as we mourn it.
What I will always remember about Kobe are — of course — the on-court achievements: 81 points against Toronto, the buzzer-beaters and hitting two free throws with a ruptured achilles tendon will live on in highlight reels forever. However, what needs to live on in our minds and our hearts forever is who the man was. He was a father, a coach, a mentor and a leader. That is what I will always remember about Kobe Bean Bryant.
As I sit here, mourning this man's death, reflecting on what life is all about, I think about how every day is precious. I think about how just Saturday we were talking about Kobe's scoring records, and today, he's gone.
Tell the people you love that you love them because not every day is guaranteed for us.
Rest in peace, Mamba and Gigi.