Men's basketball falls to IUPUI at home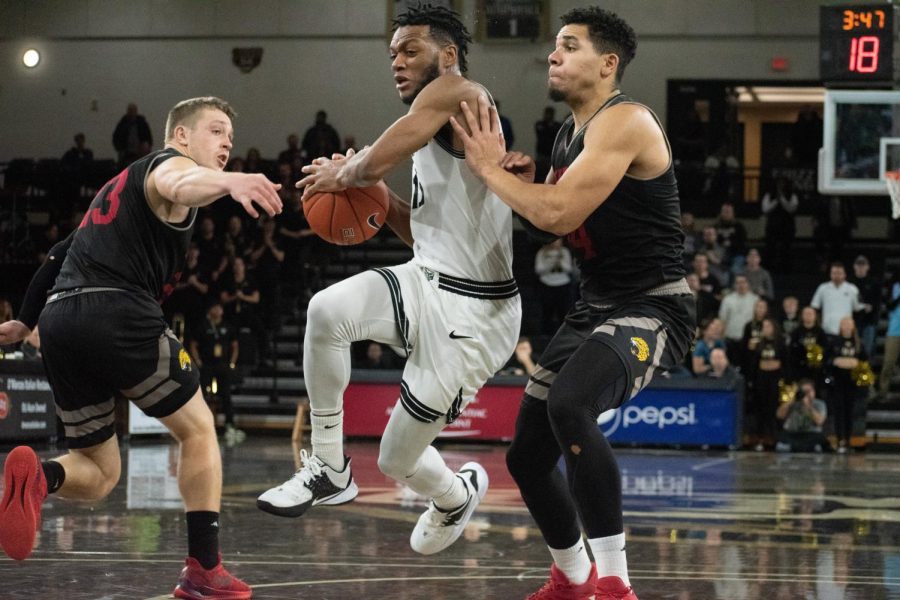 The men's basketball team returned to the blacktop for a second straight home game Saturday, Jan. 25 after being on the road for two weeks straight. 
The Golden Grizzlies took on the Indiana University-Purdue University Indianapolis (IUPUI) Jaguars for another conference game, their ninth of the season. 
Oakland was off to a slow start as they trailed behind throughout the first half, but were able to catch up by tying the game as the first half ended, 33-33.
The game was a thriller, going into overtime tied at 74-74. The Golden Grizzlies came into the second set with fire.
"We had more of an urgency to stop their scoring and finish the play with a rebound," senior Xavier Hill-Mais said. "I think it was a matter of getting stops and a little more effort."
With both teams' positions in the conference on the line, the pressure was there. Only one team can come out on top, and the odds weren't in the Golden Grizzlies' favor, as the Jaguars won with a final score of 89-85.
"I thought when Rashad's [Williams] ball banked in and they called a foul and we got the game tied, I thought we got lucky, we got a break," Head Coach Greg Kampe said. 
It wasn't long until the 78-78 tie in overtime was soon lost, and the Grizzlies trailed behind the rest of the game.
"We have not won a close game or one possession game all year, this might be the seventh or eighth one we have had," Kampe said. "I thought maybe we can get it, I think we got a really good shot to take the lead with 10 or 12 seconds to go."
The shot to win the game was off, and the Jaguars got a chance to win it themselves, but Jaylen Minnett's shot was also off.
"We then got a stop, and the great thing about the stop was that we checked out and rebounded and everyone got a body on everybody," Kampe said.
IUPUI recorded their second conference win, tying them with Oakland for last in the Horizon League.
"Those two kids were unbelievable today, and sometimes it isn't meant to be and today is one of those days," Kampe said.
Those "two kids" from the Jaguars, Marcus Burk and Minnett, together scored a total of 69 points for the team.
"I thought we guarded them, and for 45 minutes I thought we were in their hip pocket,"  Kampe said. "We did different things to them, we changed it by putting different people on them, and we got through them."
The Golden Grizzlies currently stand 2-7 in conference with just nine games left before the Horizon League Tournament. The Golden Grizzlies are back on the road as they take on Detroit Mercy on Friday, Jan. 31 at 7 p.m.