OUWB launches community First Aid training programs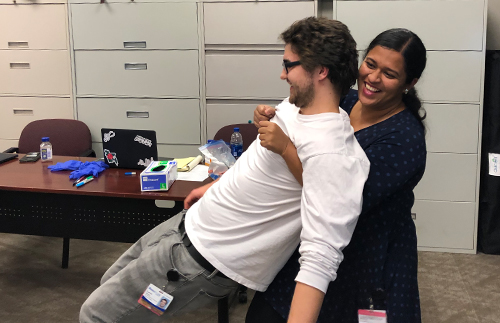 Two Oakland University William Beaumont School of Medicine (OUWB) students are bringing medical training to the community.
Amy Halder and Lucas Nelson have been working to set up first aid training workshops in the Pontiac area as a chapter of Wayne State University's First Aid First program, which has Wayne State medical students go into the Detroit community and give first aid lessons.
First Aid First sessions are divided into two sections over three-and-a-half hours. The first segment is a lecture where instructors show guests what to do in the case of emergencies such as someone passing out from heat stroke or having a seizure. Guests are also shown different medical techniques like how to administer CPR, how to tie a tourniquet and how to use an AED machine.
After a short break, guests get a chance to try out and learn firsthand how to do these techniques.
The idea to set up an OUWB First Aid First chapter came to Halder after being approached by Wayne State student Brandon Foster. The two met while volunteering at a medical clinic, and Foster inquired to Halder about expanding the program to the Pontiac area.
"From there on out, I recruited Lucas and we just started thinking about how we could bring this program here to OUWB," Halder said.
The duo attended training at Wayne State to get a better feel for the program and then began recruiting OUWB students to become trainers.
According to Nelson, OUWB First Aid First is unlike anything the school has done before.
"OUWB has several outreach opportunities through free clinics that already exist," he said, "but we have never really had a program that is specifically dedicated for just first aid in the community. We [students] have received trainings like this from the Red Cross and OUWB faculty members as a part of our training. Having the opportunity to give the training outside of a medical setting is really exciting for us."
The next event is scheduled for Saturday, Jan. 25 at the Gary Burnstein Community Health Clinic in Pontiac from 10 a.m. to 1:30 p.m. While only one training session has been completed so far, the OUWB First Aid First chapter is reaching out to Pontiac community groups like Haven and the Baldwin Center to set up more training sessions.
"There has been a lot of work behind the scenes working to find community partners," Nelson said. "That is still an ongoing process for us … I feel that we are finally getting to see stuff come to fruition, and that we are finally getting to that point where we are able to start having trainings."
For anyone interested in everyday first aid, there are a few things Halder and Nelson recommend to be prepared for any medical emergencies. 
"It is never a bad idea to have a general first aid kit," Nelson said. "That can be anything from having a few bandages to something as specific as having something like a tourniquet set."
First aid kits should include items like bandages and gloves, as well as seasonal-specific items like blankets for cold weather-related injuries.
For more information on OUWB First Aid First or to schedule an event, contact [email protected].