Graduate of OUWB's charter class joins faculty at Massachusetts General Hospital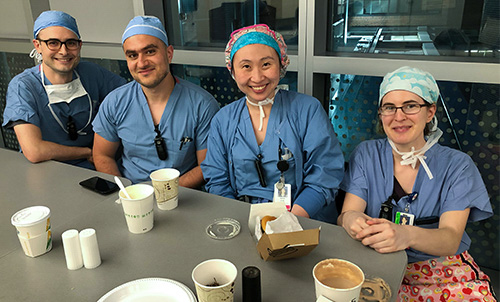 Rachel Yim, Science & Technology Reporter
December 4, 2019
Amanda Xi, a graduate of Oakland University William Beaumont School of Medicine's (OUWB) charter class, will soon be joining the faculty at Massachusetts General Hospital (MGH) as a staff anesthesiologist and intensivist, as well as an instructor at Harvard Medical School.
MGH is the original and largest teaching hospital of Harvard Medical School and the third oldest general hospital in the United States, according to its official website.
Currently, Xi is an anesthesiology critical care fellow, and when she found out she was matched to her current fellowship program, she said she was ecstatic. After completion of her fellowship, in July 2020, she will join the faculty at MGH.
"It was an incredible privilege to have trained at one of the best hospitals in the country and I am excited to stay with this community," Xi said.
Before she was a fellow at MGH, she was a graduate student at OUWB. She chose OUWB over Wayne State Medical School — her other option — because of the community and faculty she thought were approachable.
"I felt like the faculty were so warm, welcoming, and inviting during my interview day, and I wanted to be part of this community, so when I got the call that I was accepted, I was thrilled," she said.
During her clinical rotations, she was able to find out new information about anesthesiology which fascinated her. This information provided her the opportunity to learn to manage physiology and pharmacology while in an operating room setting, and prepared her for the practice of critical care, according to her.
"While at OUWB, I had the opportunity to shadow in a variety of fields," Xi said. "OUWB gave me the exposure, mentorship, and support to achieve my dreams, and helped me match into my number one anesthesiology program."
After graduating OUWB in 2015, she spent a year at Henry Ford Hospital in Detroit for her internship before moving to Boston for anesthesiology residency. Throughout her academic career, she's been involved in a variety of different types of research, such as basic science lab with Zebrafish, engineering lab and clinical research project.
Aside from her training program and academics, she's been an active member of the American Medical Women's Association (AMWA), taking leadership roles as well as blogging.
Eight years ago, Xi decided to start her own blog to document the experience of being new medical school as well as answer questions for pre-medical students who are interested in OUWB or other medical schools.
With the blog, she's had opportunities to mentor pre-medical and medical students and residents from across the country and around the world.
"[Through research], I found that blogging has helped me be more reflective and contributes to my overall well-being," she said. "In this day and age of burnout, it's so important to have an outlet or creative medium to help balance the stress of work."
Obstacles such as having her mentor not believe in her dream and emotional challenges like patients' deaths have led her grow as a clinician, according to her.
"The road to medicine is riddled with setbacks, obstacles, and challenges, but if you are passionate about this work, you will succeed," Xi said.