Teddy Bear Clinic gives OUWB students patient care experience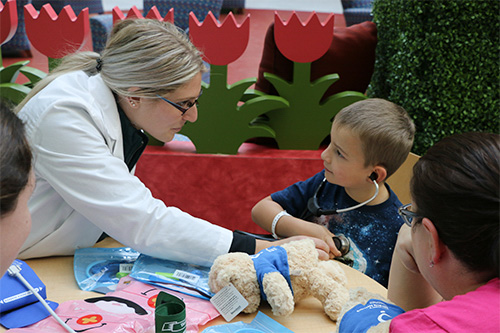 Patients at Beaumont Children's Hospital got to play doctor for the day for their teddy bear patients.
The Teddy Bear Clinic is an annual event where students from the Pediatric Interest Group at the Oakland University William Beaumont School of Medicine (OUWB) assist kids in playing the role of doctor for their teddy bears.
Helen Huetteman, vice president of the Pediatric Interest Group, said this event is really important because it helps kids learn what they could experience in the hospital.
"I think one of the big things that scares kids about doctors is that they don't know what they're going to do," she said. "So to be able to see what's going to happen and actually perform the action is very helpful for them to have a more positive experience in the hospital."
There were various stations the young patients could visit, including casting, placing IVs, reading X-rays and taking vitals. 
Cheryne Kim, first-year OUWB medical student, said events like this help show the pediatric patients that the hospital isn't as scary and daunting as it may seem.
"I think it's important to humanize the experience and make the overall hospital experience feel not as cold and to find laughter and joy in the process, even though that can be hard to find at times," she said. 
Though this event is aimed at letting kids be kids, even in the hospital, it's also a great experience for the students.
Kevin Roby, treasurer of the Pediatric Interest Group, said events like the Teddy Bear Clinic help motivate him to keep going. 
"In the first two years, it's all textbooks. You kind of lose track sometimes of why you're doing this," he said. "It's just nice to have that reminder that this is why I'm in medical school."
Kim said it's a great opportunity for students to engage with the children. 
"Volunteer events like these become a reminder that half of medicine is the heavy textbook material, but the other half of it is an art form of really being able to connect with people when they're hurting and when they might be afraid," she said.
Motivation isn't the only thing students can take from the Teddy Bear Clinic. It is also a great learning experience.
Huetteman said the Teddy Bear Clinic, and events like it, are beneficial to students. 
"It's definitely important to kind of keep these events going," she said. "It helps kind of perfect our medical skills. Not only are you working with kids and learning how to talk to kids, but you're also having to refine your medical skills to be able to do so."
Kim said it's easy to get caught up in biochemistry and anatomy, so on-site volunteer events, like the Teddy Bear Clinic, help students learn more about working with patients.
"I felt that the experience was really eye-opening and it really allowed me to gain a better understanding of what's needed to effectively communicate and empathize with pediatric patients," she said.