Soccer leader shares his journey to America and OU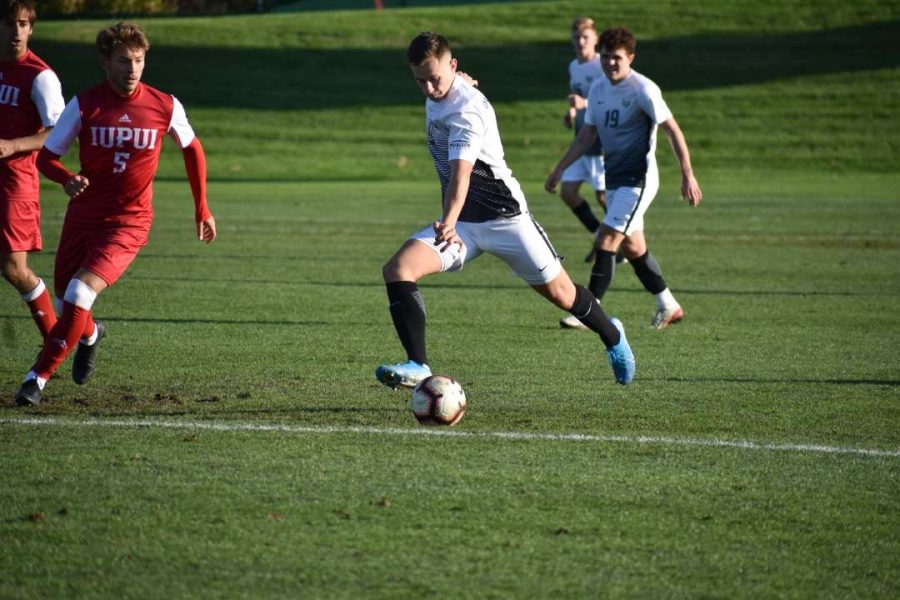 Charlie Braithwaite is one of the few players on the Oakland University men's soccer team to be an international player. Home is 3,655 miles away in Doncaster, England. 
Doncaster is a city of approximately 110,000 people and is located near the River Don.
Braithwaite was discovered by a college in the United States through his play in England, which was spread around through video.
"A soccer company back home took a video of me playing and sent it to teams all across America, which landed me first at Georgia Military College," Braithwaite said.
After landing at a junior college (JuCo), Braithwaite wanted to seek a more competitive place to attend school and play soccer.
"I made two videos of myself playing from freshman and sophomore year, and then I sent it to universities all across America, which got me into contact with Oakland," he said.
Braithwaite caught the eye of a former Oakland assistant coach. After the two finally came into contact, Braithwaite was offered a scholarship to play for Oakland and he committed before visiting.
"There is a huge difference playing from JuCo to Division 1," Braithwaite said. "It is way more competitive, demanding, physical, technical and the teams are much harder."
Scoring six goals so far this season with two being game winners, Braithwaite has had no problem adjusting to the new type of play. He has recorded the ninth-most minutes on the team with over 1000 minutes played, and has appeared in almost every match for the Golden Grizzlies.
Braithwaite and the team have a current Horizon League record of 4-2-2 and are now preparing for the Horizon League Tournament. 
"During conference, I think we played well, but we couldn't take our chances with scoring and defending, but we have definitely improved since then," he said. "I think we definitely have a good chance of winning Horizons. We just need to never give up, take our chances, stay motivated and play as a team."
With just a few weeks until the tournament, Braithwaite said practices have been super intense, and everyone is on the same page, which helps the team stay focused.
"We have one more conference game before the tournament, and our team is ready to dominate in that game and then crush in the tournament," he said. "This team definitely has great chemistry and is special."
After finishing as the No. 2 seed in the Horizon League, the men's soccer team earned a bye week, and will face Wright State University in the first round of the Horizon League Tournament. If they win, they face the winner of the University of Illinois-Chicago (UIC) and Milwaukee.
During the regular season, the Golden Grizzlies beat Wright State, lost to UIC and tied Milwaukee.