From rec to records: Goalie Jaimie Leas named Defensive Player of the Week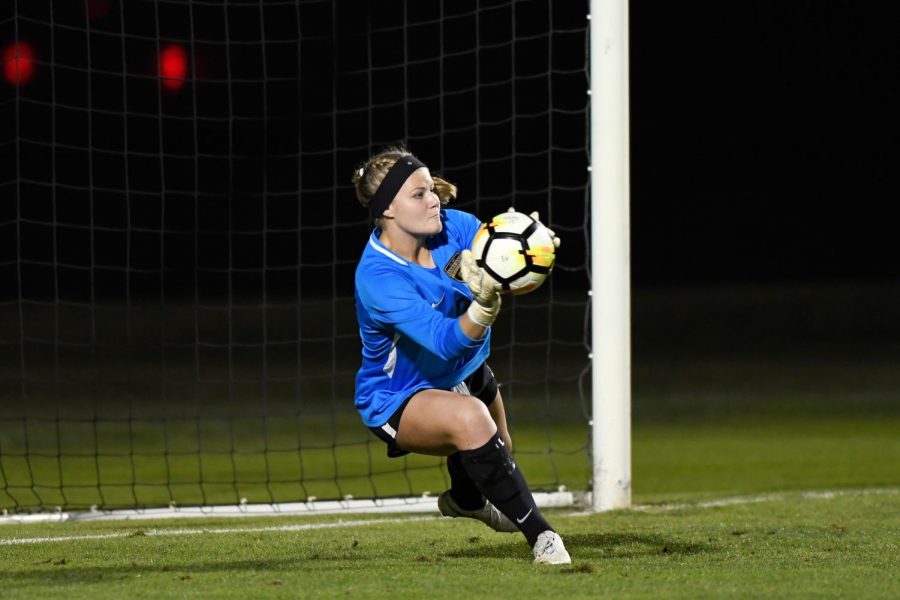 Women's soccer goalkeeper Jaimie Leas celebrated a 2-0 record last week with wins over Detroit Mercy and Indiana University — Purdue University Indianapolis (IUPUI). Leading her team with two saves against UDMercy and a shutout against IUPUI, Leas was named Horizon League Defensive Player of the week.  
From a young age, Leas couldn't be kept away from the game. She was first introduced to recreational soccer in third grade and began travel at at the U12 level. Her experience with travel teams led to being recruited to play for Oakland. 
Originally a field player when she was first starting out, Leas quickly fell into the role of goalkeeper as she moved up in competition level. 
"I didn't necessarily want to be a goalie at first, no one ever does," Leas said. "It was during rec — we would just rotate, and as we got older, they wanted a strong goalie. I didn't really want to — I didn't have much skill at the time until I started club, but I was just fearless."
Her fearlessness has helped her stick with the game from then on. Despite her original hesitation at playing in the net, Leas has grown to love her position.
"I feel like goalkeepers are weird, and I fit in that category," Leas joked. "So, it suits me pretty well."
As a keeper, Leas puts in extra practice time. Meeting with the other keepers for training before the rest of the team is a key aspect to her preparation for big games. Facing a rival like Detroit Mercy adds extra pressure, which Leas uses to stay focused and motivated leading up to the match. 
A transfer, Leas started her collegiate soccer career at DePaul University, where she started three games as a rookie. Since playing for the Golden Grizzlies, Leas has seen increased success as her career progressed. This season, she has found herself stepping more and more into a leadership role on her team.
"Being here at Oakland, it's made me be more of a leader," Leas said. "We don't have set roles for certain players here, so people who have certain leadership roles step into those roles. That allows players to develop more."
Last season, Leas started all 19 games and ended 2018 with five shutouts against Horizon League opponents, making her first in the league. This season, the redshirt junior has already recorded two shutouts and a save percentage of 0.690. 
"Being a leader is working the best I can work, and letting other people see that I'm working as hard as I can for the team and not just for myself," Leas said. 
Off the field, Leas works hard to build friendships with her teammates. Checking in with her teammates and making connections is important to her and to the success of the team as a whole. 
Falling short of winning the Horizon League championship last year, ending with a No. 6 ranking, the team hopes to come back stronger than ever. Looking forward, Leas hopes to ride the success of last week into the rest of the season. 
"[My goal is] to definitely get more shutouts," Leas said. "As a team, we're looking to win the Horizon League and hoping to make an appearance in the NCAA tournament."
Leas and the women's soccer team returns home on Wednesday, Oct. 23 at 7 p.m. against the Northern Kentucky Norse.