AD Waterfield details new off-field initiatives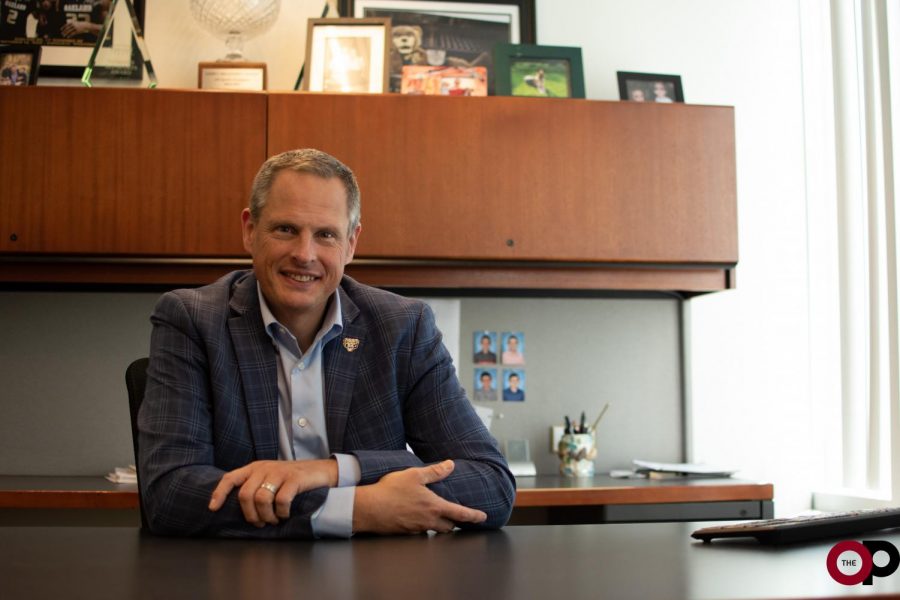 In the new day and age of sports psychology and nutrition, the Oakland University Athletics Department is trying to keep up with the times.
Athletic Director Steve Waterfield has been working for the past year on improving programs for student athletes in a way that isn't just about sports.
In spring, the athletics department submitted a request for proposal form for athletic medicine services for all student athletes. In August, the department settled on a partnership with Henry Ford Medical Services to provide sports medicine resources for student athletes. This includes primary care, orthopedic care, incoming physicals, sports psychology and nutrition.
"Starting around August, they started to provide coverage at our athletic events," Waterfield said. "Their doctors also provide clinical coverage to our student athletes. We have two primary doctors we work with, but they have two or three doctors that also help, so it's a team of about five."
This program provides student athletes expedited access to MRIs and diagnostic testing through Henry Ford. Before this, the team just had one head physician that oversaw all medical care for student athletes. Now, the coverage is deeper and extends to more areas, like nutrition and psychology.
Waterfield believes sports psychology is critical today.
"Mental health of students in general is so important," he said. "I'm excited because President Pescovitz provided funding for myself and the Dean of Students' Office to hire another psychologist through the Graham Counseling Center that would be shared and benefit both the student population and the student athlete population."
With previous experience at larger schools, Waterfield saw the effect of sports psychology at other programs.
"I thought it was important for us to continue to grow what we were offering in these areas," he said. "Just because we aren't in the Big 10 doesn't mean our student athletes shouldn't have the same sort of resources available."
Other schools like Nebraska have multiple full-time psychologists available, but Waterfield believes that making strides in this program is a step in the right direction for a mid-major school like Oakland.
Another initiative from the athletics department is career preparation for student athletes, which is referred to as "student athlete development programming," which revolves around life skills.
Ashley Stone, the associate athletic director for student-athlete experience and senior woman administrator, started this program, which focuses on providing resources for student athletes based around their class year.
This includes Waterfield mentoring student athletes, meeting with his six student athletes once or twice a semester and talking about the handbook that Stone developed.
"There's a lot of hours that are spent that might prevent them from attending the career fairs," Waterfield said. "We are trying to find ways to provide venues for the student athletes to get the information that they need."
Nutrition is another thing that can be challenging for student athletes with a busy schedule. The athletics department also dedicated time to improving resources to help fuel their athletes.
"We've started to give our student athletes post-workout shakes and treats, stuff like that," Waterfield said. "It helps reward them for the work they put into the weight room and refuel them, because often times they have to go from the weight room to class."
Waterfield has received positive feedback from student athletes and staff about these new initiatives. Despite positive feedback, he still is always looking forward.
"We have to continue to look at ways we can meet what our student athletes need," he said. "A lot of credit goes to Ashley Stone; Carrie Aprik, our nutrition person; and Chris Curran in athletic training, and other people within athletics who help out. There's a lot of people who work together and collaborate to help execute all of these initiatives."