Oakland to take on Detroit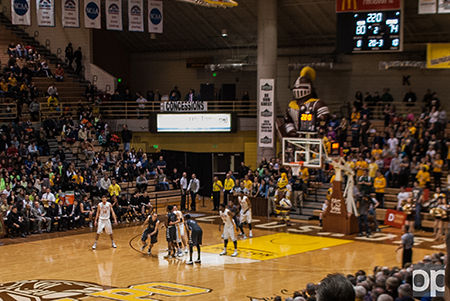 The seventh episode of the Metro Series rivalry between Detroit Mercy and Oakland will take place at 3 p.m. Sunday at the O'rena, featuring a rematch in men's basketball.
Currently, the standings favor Detroit, 8-4, with each individual matchup between the schools in all Horizon League varsity sports counting for two points to the winning team.
Oakland has already captured victories in men's soccer and women's cross country while losing in women's soccer, men's cross country, men's basketball and women's basketball.
Both basketball teams still have home matchups against Detroit: the Golden Grizzly women host Detroit Feb. 18.
Last Valentine's Day, Detroit visited Oakland for a memorable men's overtime game that set the all-time O'rena attendance record at 4,065.
Oakland will look to break that record this Sunday.
The Golden Grizzlies will also look to break a two game losing streak coming off of losses at Valparaiso and at Milwaukee this week.
The stakes are much higher than they were even a week ago. With the losses, Oakland now sits at fourth in the Horizon behind Valparaiso, Green Bay, and Cleveland State. 
As of Monday night, the reserve tickets were 90 percent sold out, but no student will be turned away with a proper ID, according to Assistant Athletic Director Scott MacDonald.
Sunday promotions include a free T-shirt and rally towel for the first 200 students to arrive. Fans will have an opportunity to win a car with in a half-court shot contest sponsored by Chrysler.
Ladies will have an opportunity to win a Valentine's date with the Grizz. Students are also asked to wear black — for a blackout.
Student Congress is also hosting its second annual university wide tailgate. It's a BYOB tailgate, as long as you are of age.
There will also be Slows Barbecue available for students. The tailgate takes place on the second level of the P-29 parking structure from 11 a.m. to 2 p.m.
Brittany Hall, associate chair of the Student Programming Board, urged students to dress warmly for the occasion.
"It's going to be cold, but it's BYOB and we're going to have barbecue."
She also suggested that students try to arrive early for the game because non-reserved seats are first-come, first-serve.