Dominique Daniel and the clues to Kresge's collections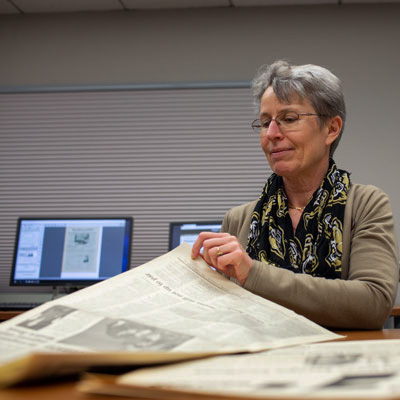 From the surface, Kresge Library is comprised of several floors of carefully organized books and resources, from aardvarks to zythum. For many, those are arbitrary words — unless you are checking out job prospects at Merriam-Webster — but one librarian is transforming Oakland University's library resources with some local archaeology and a passion for OU's history.
"I was always interested in being a librarian and archivist because the part of history I find most fascinating is dealing with archival materials — objects of the past, books of the past, manuscript letters — so, I think I have the best part of the historian's job," said Dominique Daniel, OU professor and humanities librarian for history and modern languages.
Her history
Daniel is originally from France, where she developed her interest in history. Throughout her childhood, she was always reading, unpacking historical figures' lives through their stories.
"I read a lot — a lot of fiction, especially historical fiction, and biographies of great people from the past," she said. "I saw how historians wrote history, and I liked that."
Initially, she was a history professor in France, until she welcomed a "second career" in the United States after meeting a Michigander at a conference in Los Angeles for the Organization of American Historians. Upon returning to France, the pair stayed in touch through letters and emails, until Daniel decided to call Michigan home as well.
Before moving, she had earned a doctorate in American history from the University of Paris Seven, with a concentration in U.S. immigration policy research. Then, she delved deeper into her archival interests and obtained a master's degree in information science from the University of Michigan. Wayne State University was her next stop as a professor, but she soon called Oakland University home — where she has now worked for 10 years.
Gathering history
A traditional view of a library is focused on organizing books, but Daniel's work is much more diverse. In fact, she spends much of her time in the community looking for missing pieces to Oakland's collection that may be forgotten in someone's attic.
"One [aspect of my career] would be assessing the collection," Daniel said. "I speak with people who hold items at home or somewhere and are willing to donate it to us. I was just in Rochester the other day at somebody's home and I brought back 15 — very heavy — boxes of stuff."
Following a donation, Daniel is tasked with sorting through everything to make each item as accessible to students as possible. Each artifact is itemized and a digital copy is made, if possible.
"There is no usual day because I do a variety of things," Daniel said. "It's so varied, you cannot get bored in any way."
Oakland's archives
Some recent additions are pieces of history from the surrounding Oakland County, including issues of the press, books, ledgers and photographs. For instance, there are copies of each issue of The Oakland Press, dating back to 1845. These items' history are still unfolding, as new puzzle pieces are still being uncovered and sorted daily.
Even closer to home, the complete collection of The Oakland Post has recently been compiled through the help of donations and issues found in The Oakland Post office, which date back to 1959. Each of these are also available to view online, too.
Some of Daniel's favorite donations are from actor and OU alum Curtis Armstrong. Among his collection are original photographs from the set of "Risky Business" and memorabilia from his time at OU.
"I love the photographs that were taken on the set of the shooting of the movie, where you see Tom Cruise and other actors, including Curtis Armstrong," Daniel said. "They're just having fun during their downtime."
Missing artifacts
Kresge Library could be described as one extensive living artifact because the library is always searching for new additions, which are always being made. Many of the missing pieces could be scattered about in homes, shops and schools in the area, but not everyone views them as historically significant.
"Unless you put things in the archives, where our mission is to permanently preserve these things and organize them so that we know what we have and how to find them, then chances are they will get lost to history," Daniel said.
Specifically, the library is in search of Pioneer Pete's mascot outfit. After years of use during events, the outfit has gone missing. The outfit was most likely last used at a nostalgic event, along with the Grizz, OU's current mascot.
"I don't know where it is, but if anyone knows where it is, I would love to have it," Daniel said.
Additionally, sweaters with the original "MSU–O" (Michigan State University – Oakland) label on them are hard to find — Kresge currently contains only two. This dates back to OU being a branch of Michigan State University in the late 1950s and early 1960s. Daniel concluded that many people who have these sweaters simply do not realize their historical significance to OU today.
"I have met a lot of charter class alumni that tell me, 'Oh yeah, I had one of these sweaters, and I threw it away,'" Daniel said. "And I now want it, so please don't throw it away."
A quick peek into the attic could lead to either of these artifacts, which could be influential in preserving Oakland's history. Kresge Library is not only a reciprocal for textbooks, but the resting place of OU's roots.
Daniel has dedicated her career to a unique form of detective work that will never have one "aha" moment — rather, there will be many. Each day offers a variety of work that could include organizing more history to view or seeking out the next historical puzzle piece.
Much of what Kresge Library is able to archive is because of the interest and cooperation of community members, faculty, alumni and students. According to Daniel, the library does not have to revolve around borrowing books — donating is just as important.
"I think it is very important to know a little bit at least about the past of the place you're working or studying at, because what it is today is in large part shaped by how it was created and how it evolved," she said. "The people and forces that shaped our values and identity are a result of that past."