New vice chair named for OUWB Department of Foundational Medical Studies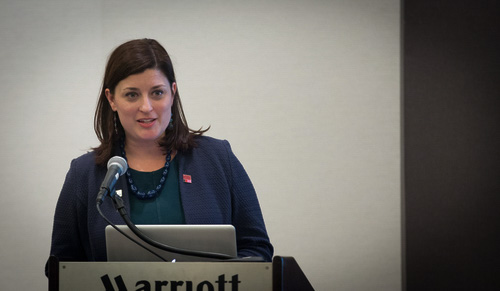 Rachel Yim, Science & Technology Reporter
October 9, 2019
Kara Sawarynski, Ph.D., former assistant professor of Foundational Medical Studies, was recently named vice chair of Foundational Medical Studies at Oakland University William Beaumont School of Medicine (OUWB).
Graduated from Lee Honors College of Western Michigan University with a Bachelor's Degree in Biomedical Science, Sawarynski immediately started her doctoral work for the cancer and biology program at Karmanos Cancer Institute at Wayne State University where she earned her doctoral degree (Ph.D.) in Cancer Biology.
After receiving her Ph.D. in Cancer Biology, Swaraynski came to OUWB in 2012. She was an assistant professor Foundational Medical Studies.
 "I was working as a researcher before I came to OUWB in 2012," Sawarynski said. "I was an assistant professor of Foundation of Medical Studies. Recently, I was promoted to associate professor, and I was also appointed to be the vice chair of the department. So, I still have my original roles, but I also have this vice chair responsibilities."
Along with supporting medical students with their research goals, she teaches cell biology and directs the Embark research program.
When she was first notified of her new position, she was looking forward to the opportunity of having a stronger voice and being able to move her department forward and continue their work toward their goals, according to Sawarynski.
"I was very excited for the opportunity," she said. "I'm motivated to learn more and better develop leadership skills, and to take what I know of medical education and help further evolution of our department. So, I think it's a really unique opportunity. I'm looking forward to taking that out in helping the department to continue to grow."
Throughout her career, Sawarynski has spent a lot of time getting to know about students' research goals. She said, for her new position, she has an opportunity to learn more about her colleagues' research goals and their career vision in goals.
Sawarynski and her department have developed several "Scholarly Interest Groups." These groups put their effort in finding common themes among different faculties and working collectively in a project.
Each group serves different purposes, but Sawarynski serves as a sounding board for faculty ideas and individuals' research goals. One of the interest groups, she mentioned, is "Medical Students Research Training," where faculties are involved in and work with the medical students to develop their research training skills.
Sawarynski is also working on a project, called "Med-Well" where she is working on developing a database of students' wellness attributes as they progress through medical school.
"I've actually obtained pilot funding where we've given students Fitbit devices to wear as they progress through medical school because medical school students usually go through some significant stress," she said. "We are trying to better understand the timing of how that happens and what happens to their sleep and things like that."
For the near future, Sawarynski hopes she will be able to continue to develop her skills and help her department and all of its members be able to obtain resources.
"And together we can always look for ways to as one of us succeeds all of us succeed, you know," she said.
To her students, she can provide two things, "Roots to grow and wings to fly," she said.