Greg Kampe's contract extended until 2023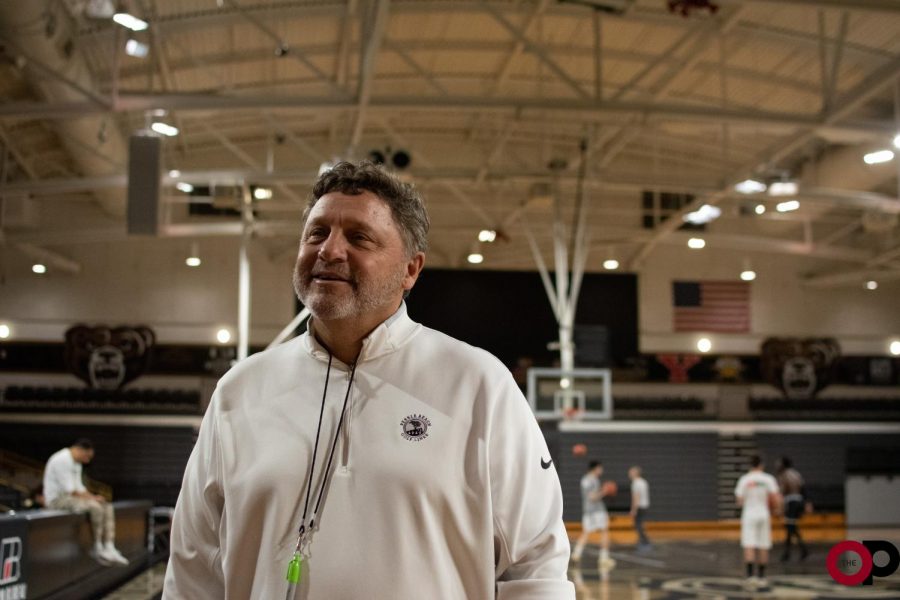 Head coach of the men's basketball team Greg Kampe will remain in his current position until at least 2023. He received a three-year extension to his contract, which had one year remaining.
The Detroit News, which first reported the extension, also reported on a new feature of Kampe's deal, a "guarantee game." Under the new deal, Kampe gets one "guarantee game" per season. A guarantee game is a game where Oakland receives a payment, usually from a power five team, in order to travel and play them.
Under this clause, Kampe will receive the payout for the specified guarantee game after the travel fees are subtracted from it.
For Kampe, he's committed to Oakland for as long as he wants to coach. He even went as far as to say there was no negotiation process, because he believes Oakland is a school you don't negotiate with, out of respect.
"I have never negotiated anything here," Kampe said. "Oakland is a special place, and I don't think Oakland is a school you negotiate at. There were no negotiations. Steve (Waterfield) asked me what I was thinking, I told him what I was thinking and we talked about a couple of things. That was it."
Waterfield, the athletic director, is entering his second year at Oakland. He chose to extend Kampe based on what he saw in his first year at the helm of Oakland's athletic department.
"I spent last year evaluating the program and seeing where things were," Waterfield said. "I'm a big believer in trying to provide as much stability as possible. I liked what he was doing coaching-wise, and I thought he was doing a really good job. I was impressed with how he was approaching it. I thought with recruiting also it was important to make it clear visibly that he was here for the next four years."
By the end of this new extension, Kampe will have coached 40 years at Oakland. During the last 36, he has won 618 games, which puts him at third-most by coaches at their current school. His 618 wins are third only to Duke Coach Mike Krzyzewski and Syracuse Coach Jim Boeheim.
Since the move to the Horizon League, Kampe has a 67-39 win/loss record, which puts his in-conference winning percentage at 63.2%. For Kampe, reaching 40 years with the program he has seen grow is special.
"I feel very fortunate," Kampe said. "I've been able to grow in my profession as this school has grown. We started off with about 8,000 students with 500-600 on campus, and now we're 20,000 with close to 5,000 on campus. I've been able to grow personally and professionally with this university, and there are not a lot of people that can say that. It's been a privilege to be a part of the growth of this university."
Consistency over a decade within Athletics is something that Kampe has achieved, as well as other coaches like Pete Hovland (Swim and Dive, 39 seasons), Paul Rice (Cross Country, 22 seasons), Eric Pogue (Men's Soccer, 18 total seasons) and Rob Beam (Volleyball, 13 seasons).
For Waterfield, this consistency in stability is something remarkable in college athletics.
"To have that level of stability, it allows us to continue to build moving forward," Waterfield said. "It avoids what you deal with when you have a transition, which are the inevitable ebbs and flows of transitioning from one program to another."
Kampe is known for his work on the court, as well as his work off of it. He has been a staple of the local community, doing work with the American Cancer Society and other charitable organizations.
It isn't just him giving back, he also makes sure to involve his teams in community service as well. Every winter he brings his team to Detroit to hand out pre-made meals to those in need.
"People connect him with Oakland University," Waterfield said. "What I really was impressed with this past year is seeing what he does in the community, seeing that generosity and philanthropic efforts. He is benefiting so many people in Southeast Michigan with what he does, and it shows his commitment to the area, the region and his willingness to pay it forward."
In year 36, Kampe's philosophy is still to win games, but at the same time he wants to focus on making his athletes better people once their college careers are all said and done.
"I come to work every day with the idea that I'm trying to make 15 young men the greatest players, people and students they can be," Kampe said. "All the side things, championships, they take care of themselves. My job is to focus on the student-athletes. If I can make each player be the best person, player and student they can be, then I believe I am having success."