OUWB wins the "Pediatric Interest Group of the Year" award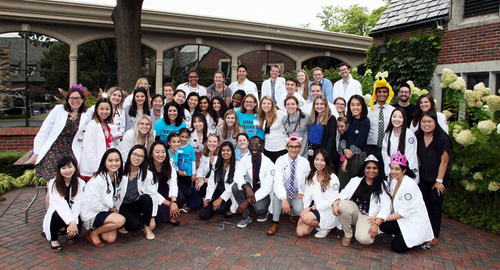 A student organization from the Oakland University William Beaumont School of Medicine (OUWB) has been named the "Pediatric Interest Group of the Year."
The OUWB's Pediatric Interest Group (PIG) works to serve the community and promote pediatrics. 
This award comes from the American Academy of Pediatrics (AAP), which is a professional association of pediatricians, and has been a huge honor for all the members.
Yvonne Lee, the president of PIG, said everyone was excited about the award. 
"We are just so happy and proud to be able to impact our pediatric community, especially around OU since it feels like we're able to give back to everyone," she said. "It's great to know that our hard work paid off and that we are being recognized for it."
Vice President Savannah Fotheringham said this award recognizes that OUWB and the group did an outstanding job of upholding the values of the AAP. 
Lee said the group is one of the largest at OUWB and focuses its efforts toward community service, advocacy for pediatrics and fundraising. The group is heavily involved and has many annual programs they continue even with new leadership.
One of the annual fundraisers PIG puts on is "The Roast," which is a medical satire show where students, professors and faculty get to roast their peers. The show raises money for the CARE House of Oakland County, which is a nonprofit children's advocacy center.
"The Roast" is PIG's flagship event. Last year, the show raised over $2000, according to Lee.
The group has also partnered with OU's Lowry Center, participating in a reading project for kids of all abilities using sing-along books created by the music department. 
Lee said at first it was supposed to just help members get a little more exposure and interaction with children with autism. However, they soon ended up doing it with their whole school.
The group isn't just for those interested in going into pediatrics. 
Fotheringham said members can explore all kinds of subspecialties within the pediatric field, while still serving kids and families in the community in various ways. 
Lee said it's a way for people to get out of their comfort zone and relieve the stresses of college, all while staying within the realm of pediatrics.  
Even though the leadership of the PIG changes every year, Fotheringham said the group will continue to maintain the outreach and advocacy programs in place. 
"The world needs primary care doctors right now," she said. "So promoting the field is really important."