Women's soccer leader enters senior season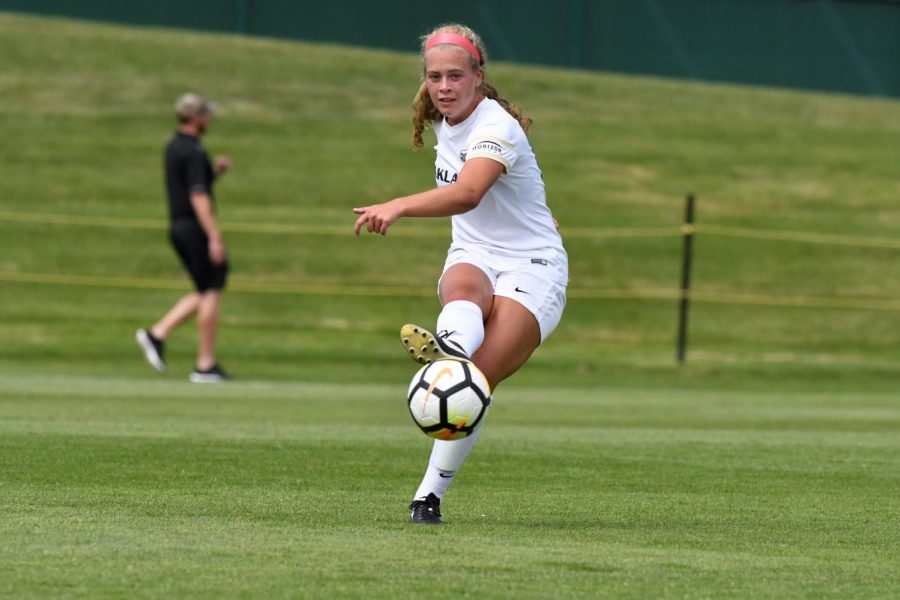 Devin Boatwright, Staff Reporter
September 15, 2019
Sierra Grodsinsky, a senior forward for the Golden Grizzlies women's soccer team, has made her mark within her team and this community. Her work ethic and passion for the game of soccer has led her to significant minutes at a Division I soccer program.
Early on in life, Grodsinsky had to make tough decisions to pursue her dream of collegiate soccer. She had to leave her friends and give up most of her high school experience to be dedicated to the sport. After joining Vardar North in her eighth grade year, Grodsinsky officially made soccer a huge part of her life, saying she doesn't regret her decision and it was the right move to make for her collegiate soccer dreams.
"Going into high school, that was a big commitment to make so early on," Grodsinsky said. "I'd be giving up part of my high school life, so to speak. Leaving my friends was also very, very tough. I ultimately made the decision because I knew I wanted to play Division I soccer and this was that step I needed to take."
In her junior season at OU, Grodsinsky led the team in shots, started in 12 of 18 games and recorded a game-winning goal against UIC on Oct. 20. Her 22 shots taken were a step up from her sophomore season, where she only took one.
Grodsinsky plays this year with her younger sister, Sydney, who is a freshman. Grodsinsky said playing with her sister now and over the years has always been amazing. Their bond as sisters is close-knit — and it stretches into the game as well.
"Something about being on the field with her — I can't explain it, it's just a sister thing," Grodsinsky said. "I remember one time in high school, she got fouled on the outside and we just looked at each other. She threw in a really quick pass and I one-timed it into the corner. We didn't say a word to each other but we just knew what we were going to do."
Grodsinsky is proud of her sister, saying she has a "beautiful first touch," which was something Grodsinsky struggled with at first.
"I see so much of what I looked like playing in my freshman year in her as well," she said. "Being able to see her grow as a player, as a woman and helping her along the way when I can is such an amazing thing to be apart of."
The Golden Grizzlies played their in-state rival Michigan State this weekend, losing 2-0. Grodsinsky loves the fight that her team always brings to this rivalry game and expects to come out on top this year.
"We always show them that we are going to fight for this win," Grodsinsky said. "Every year we've come out strong and fast-paced, really trying to put pressure on them. I can't speak for them but I'm sure they felt as though this game would be easier than going up against another Big Ten school, so our mission was to go out there and prove them wrong."
The Golden Grizzlies team looks to defend their home turf against Youngstown State on Friday, Sept. 20 at 7 p.m.