School of medicine graduate becomes U.S. naval flight surgeon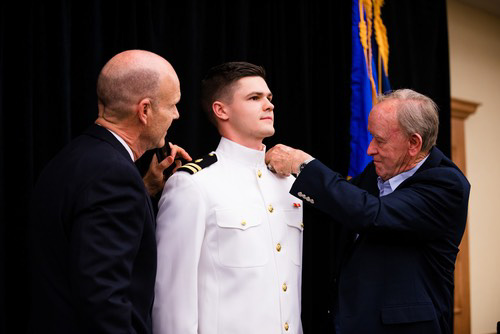 Medical school. Get in, get out, become a doctor and retire happily. A simple plan for a comfortable life.
Oakland University William Beaumont School of Medicine (OUWB) graduate Kyle Eaton opted to go another way. Instead of working as a doctor in a practice, Eaton is practicing medicine as a U.S. naval flight surgeon. 
The Birmingham, Michigan native found an affinity for medical work in high school. Eaton enjoyed his science classes and wanted to work in that field, but during mission trips to Costa Rica and Nicaragua, Eaton finally found his calling.
"We got to give out medications and talk to people in the community about health," Eaton said. "I think that is when I decided, 'Yeah, I should go toward medical school' and allowing my love and interest in science to help take care of people."
While Kyle was the first in his family to pursue a medical career, he always wanted to follow in his father's and grandfather's footsteps and pursue a military career.
"I always thought about serving in the military in some degree," Eaton said. "My dad was a Navy pilot, so that was always in the back of my mind."
At first he did not know how to make a military career work. Premedical classes were time consuming, so doing Reserve Officer Training Corps (ROTC) was off the table. But then his dad learned about the U.S. Department of Defense's Health Professions Scholarship Program (HPSP).
"[The HSPS] seems like a pretty good trade-off," Eaton said. "They pay for four years of medical school, they give you a small stipend to pay for things, and in return you owe them four years practice as a doctor in the military."
When his HSPS application was approved, Eaton was commissioned as an ensign, the entry rank for Naval officers.
With a rank to his name, Eaton was off to OUWB. Going to OU was not a hard choice for him thanks to the Beaumont connection.
"I grew up in Birmingham and OU was just building their medical school," he said. "We went to Beaumont if we were sick, our doctors were affiliated with Beaumont, so [Beaumont] always felt like a community to me. To be able to work in the community that raised me was important and such an awesome thing I was able to do."
Balancing his Naval career and OUWB studies was easy, especially since the Pentagon did not ask for much while learning. His residency was at Naval Medical Center Portsmouth in Virginia, and he spent five weeks at Officer Development School in Newport, Rhode Island.
At his graduation in the summer of 2018, Eaton not only graduated as a doctor but was promoted to lieutenant, two steps above ensign. His father and grandfather were there to pin on his lieutenant regalia.
"My father was a lieutenant before he separated from the military," Eaton said, "and my grandfather … was in the Air Force as a colonel. Both of them were pilots and in the military, so it was a special moment for them to be part of the ceremony with me."
Today Lt. Eaton is back in Virginia finishing up his flight surgeon training. Once he completes that and six more months of training in Pensacola, Florida, he will be able to provide preventive care to Naval and Marine pilots wherever he is stationed.