School of Medicine professor is one of four to receive Women of Impact award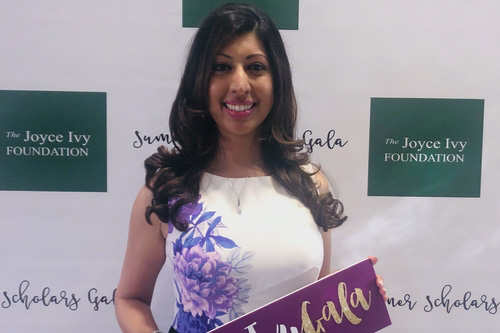 One of Oakland University's professors, Dr. Asha Shajahan, was honored with receiving the Women of Impact award for her community work and being a role model for younger women.
The Women of Impact awards are hosted by the Joyce Ivy Foundation, a non-profit organization with a goal to help the academic advancement and leadership development of young women around the Midwest. 
"It meant a lot because most of my work is service-oriented, and I felt that it was really awesome that an organization wanted to honor someone in terms of service," Shajahan said. "A lot of people achieve very cool things, and it's like we often forget that part of our purpose of being here in the world is to give back, and a lot of what I do is around service to the underserved. So, it really meant a lot that it was recognized so that others who also want to serve may be inspired."
Shajahan is a professor within the Oakland University William Beaumont School of Medicine, an assistant professor in the Department of Family Medicine and Foundation Medical Studies, a board-certified family physician, and medical director of Community Health for Beaumont Hospital in Grosse Pointe.
Family medicine can study the behavioral effects throughout the lifespan of a person's life. While providing health care for all ages, Shajahan has assisted in improving people's well-being.
"Family medicine is the scope of medicine that starts from infancies — so when the baby's born all the way until your geriatric features — and the reason I chose that is because I was very much into health policies and wanted to understand health from the lines of every single person," Shajahan said.
After receiving her undergraduate degree in health administration, she worked as a health care legislation intern in Washington D.C. Then, she started working in Detroit, helping and serving underserved with health care. She continued her education by attending medical school at St. Matthew's University and ended doing her medical rotations in New York. She also received her master's in health services administration at St. Joseph's College. Shajahan's last step of education was starting her residency at Henry Ford.
She is also the co-host of a podcast that started last May for Beaumont Health, titled Beaumont House Call. The focus of this podcast is talking about public health information and trying to empower people to live happier and healthier lives. 
"I think that people are really, the younger generation specifically, looking toward media to get health information," Shajahan said. "We thought this is a great way for people to get health information for free from experts about different health conditions such as depression and loneliness."
Shajahan is also teaching a class called "The Eight Dimensions of Wellness," which focuses around all the things that can impact health. The class educates people on how to improve in areas of health for a more well-rounded life.
Shajahan is hoping to move forward with her work and further impact others throughout her career. In order to share more of her public health knowledge, she hopes to help more people in the future through more media spaces. She also hopes to expand herself to a bigger audience outside just the community level and reach a more national level.