Summertime sewage creates problems for Lake St. Clair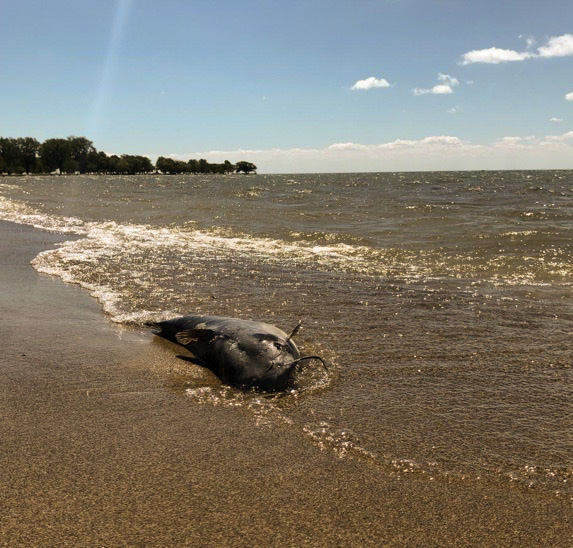 Kendra Rowlands, Contributor
August 6, 2019
Hang on for a minute...we're trying to find some more stories you might like.
It's summer vacation for Oakland University students, which means it's time for relaxation, barbecues and trips to the beach. With Lake St. Clair being one of the closest beaches to OU's campus, it's surely going to be a popular destination this summer. However, before putting on your swimsuits, there are some concerns you should be made aware of.
Lake St. Clair has faced issues with water contamination for years. Daniel Fuller, an environmental specialist for Fiat Chrysler Automobiles, said there are a lot of known causes for waste pollution, which include animal waste, improper sanitary systems and waste from farming and industrial manufacturing.
The biggest contributor to this problem is from the combined sanitary and storm sewer system for Oakland and Macomb Counties. The combination of septic and storm water has difficulties keeping up with harsh weather conditions and, therefore, causes a waste overflow.
"The problem is with heavy rains," Fuller said. "The system cannot keep up with the treatment of millions of gallons of waste. The system then dumps what it cannot treat, and it ends up in the lake."
OU's campus is located within the Clinton River Watershed that flows down to Lake St. Clair. As of right now, the Clinton River does not meet the standards of the Great Lakes Water Quality Agreement with storm water being "the single greatest source of contamination," according to OU's Office of Environmental Health and Safety website.
Because of the waste that has made its way into the lake, levels of E. coli bacteria exceeding the maximum allowance has also been the cause for Lake St. Clair's multiple closures. Environmental Chemistry Professor Linda Schweitzer said E. coli bacteria can also sit within the sand on the beach.
"Even when there is no present source of sewage getting into the lakes, there can be high bacteria counts in the summer when those bacteria become active again," she said. "It is worse when there is fertilizer and other nutrients getting into the lake."
According to the Michigan Department of Environment, Great Lakes and Energy, E. coli bacteria stay in clusters that can either float in water or sink due to gravity. When samples are taken to test for E. coli levels, they are taken from three different locations, but avoid disrupting the surface layer or bottom sediment. These colonies of bacteria are then taken to a laboratory within six hours of the sample collection, counted per volume of water and then calculated as a geometric mean. The maximum for total body contact — meaning the water is safe for swimming — is 300 E. coli per 100 milliliters of water.
That being said, anyone planning a trip to Lake St. Clair should stop by the park offices. Not only can they provide information about upcoming events, but they are required to show the most recent test results of the water as well. This information is also available on the Macomb Health and Community Services website.
Memorial Beach, which is surrounded by Lake St. Clair, shut down on June 18 due to unsafe water conditions. This is the second time the beach has closed within a month, and no information has been released about when it will open again.
Haley Rogers, an Oakland University student, said she does not have plans to take any trips to Lake St. Clair. She, too, worries about the sanitation of the beach.
"I know that open bodies of water are not very clean in general, but seeing how many times the lake has been shut down kind of just turns me away," she said.
Karen Daniels, a visitor of Lake St. Clair, said her trip to the nearby Metropark Beach was the first in many years, and she was shocked by how much the quality of the beach has degraded since her visit in the late 1980s.
Daniels remembered when the air would smell like sunscreen, and people would be sitting blanket-to-blanket on the beach.
Now, she said, it's not nearly as lively as it used to be.
"The beach itself didn't quite look so bad at first appearance, but when I walked further along, I began to see plastic, grime and dead fish being pushed onto the shore," Daniels said. "Let's just say you wouldn't find me swimming in that water."
Environmental specialist Steven Snider said wastewater problems in Lake St. Clair have been a well-known issue for quite some time. With Michigan being the largest source of freshwater, wastewater becomes an issue for everyone.
"It affects all of us, not just the people who live near Lake St. Clair or who use the lake for boating or fishing," Snider said. "At some point and time, the lack of fresh water will affect all of us."